The Kings are just one of the teams expected to make a run at Jabari Parker, and some executives within the league view the former No. 2 overall pick to be among the small tier of players below stars such as LeBron James and Paul George.
"Hey, he's a good player; I mean he's a really good player,'' an NBA executive told Gary Woelfel (via Woelfel's Press Box). "And he's young.''
Parker is a restricted free agent, meaning the Bucks can match any rival offer he receives. One longtime NBA executive expects the 23-year-old to see a rather lucrative deal.
"I think some teams will give him $20MM [per season] and there might be some teams that will make it tough on Milwaukee to match and offer him even more,'' the NBA official tells Woelfel.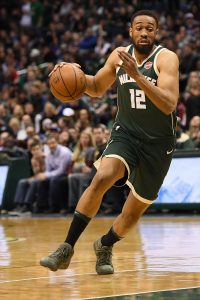 "I think Milwaukee would like to keep him for $16MM or something around that figure, trying to use his injury situation to their advantage. But there are teams that need a big-time scorer and nobody doubts he's a big-time scorer.''
Another NBA executive speculated that the Sixers could make an offer for Parker should they fail to land a bigger target like James, George or Kawhi Leonard. Woelfel names the Bulls, Jazz, Pacers, Hawks, Suns, and Nets as possibilities as well.
Other NBA executives who spoke with Woelfel believe a sign-and-trade is a more likely scenario for the combo forward. That route would be Milwaukee's preference rather than being forced to decide between signing Parker to a player-friendly contract or losing him for nothing. "It's no secret" that the Bucks would be open to receiving an upgrade at point guard or center in such an agreement, Woelfel adds.
The Rockets and Clippers are both high on Parker and could be possibilities if a sign-and-trade were to occur, though it would be hard for Houston to complete a deal and stay under the tax apron if the team retains its own key free agents. Los Angeles and Milwaukee had discussions about Parker at last year's trade deadline.
Parker likes Milwaukee and he reportedly paid around $1.5MM to redo the warehouse he currently lives in, according to Woelfel's sources. Those same sources tell the scribe that despite Parker being comfortable in his current situation, it's more likely he leaves then stays.
"He loves the people there; he loves the city," the source said. "But I don't see him staying there. If you're asking me, it's 75-25 he goes to another team.''
Many dominos, such as James coming out of his decision cave, are likely to fall before Parker inks his next contract with a source estimating that a deal won't take place until late-July or early-August.
Image courtesy of USA Today Sports.