JULY 16, 7:25pm: The signing is official, per team press release.
JUNE 30, 11:04pm: Veteran forward Ersan Ilyasova has reached agreement on a three-year, $21MM contract with the Bucks, tweets ESPN's Adrian Wojnarowski. The third year is non-guaranteed, league sources tell ESPN's Zach Lowe (Twitter link).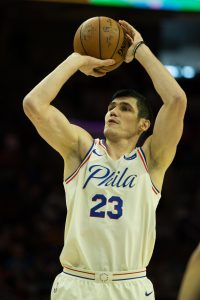 The move represents a homecoming for the 31-year-old, who began his career in Milwaukee in 2006. Apart from two seasons in Spain, Ilyasova remained with the Bucks until they traded him to Detroit in 2015.
He started the 2017/18 season in Atlanta before agreeing to a buyout in late February and signing with the Sixers to provide shooting help in the playoffs. He averaged 9.3 points and 7.6 rebounds in 10 postseason games for Philadelphia.
Milwaukee will probably use its mid-level exception to add Ilyasova, unless it can arrange a sign-and-trade with Philadelphia or swing some other deals to clear cap room. Assuming Ilyasova's first-year salary exceeds the taxpayer's mid-level exception ($5.337MM) and he's acquired via the MLE or a sign-and-trade, the Bucks would be hard-capped for the 2018/19 league year.
That hard cap could be a factor if another team makes an aggressive offer for restricted free agent Jabari Parker, as cap expert Albert Nahmad notes (via Twitter).
Photo courtesy of USA Today Sports Images.