JULY 9, 6:03pm: The signing is official, according to the team's Twitter feed.
JULY 3, 3:09pm: The second year of Bradley's contract features only a small partial guarantee, according to ESPN's Zach Lowe (Twitter link). If the Clippers want to move on from the guard after year one, they'd only be on the hook for a total of $14MM.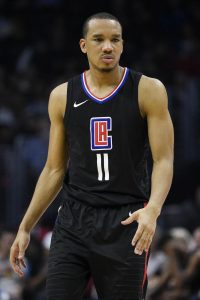 JULY 2, 11:55pm: The Clippers will bring back free agent guard Avery Bradley, according to Shams Charania of Yahoo Sports, who reports (via Twitter) that Bradley will sign a two-year, $25MM contract to remain with the club.
Bradley, 27, had an eventful contract year in 2017/18. He was traded from the Celtics to the Pistons during the 2017 offseason when Boston needed to clear cap room to sign Gordon Hayward, then was flipped to the Clippers midway through the season in Detroit's blockbuster acquisition of Blake Griffin.
Plagued throughout the year by a sports hernia that ultimately ended his season early, Bradley wasn't at his best in 46 total games for the Pistons and Clippers. For the season, he averaged 14.3 PPG, 2.5 RPG, and 2.0 APG with a shooting line of .414/.369/.768.
Because the Clippers held Bradley's Bird rights, the team had the ability to go over the cap to re-sign him, leaving the mid-level exception available for another deal.
Known for his stout perimeter defense, Bradley will rejoin a backcourt that currently features Sixth Man of the Year Lou Williams, incoming rookies Shai Gilgeous-Alexander and Jerome Robinson, second-year guard Jawun Evans, and veterans Milos Teodosic and Patrick Beverley.
Teodosic's days in Los Angeles may be numbered, as his 2018/19 salary is only partially guaranteed. Beverley doesn't have a guaranteed deal either, but he seems unlikely to be waived unless his health is a serious concern. Beverley missed most of the 2017/18 season after undergoing right knee surgery to repair a microfracture and a meniscus injury.
Bradley's deal with L.A. is the team's second contract agreement of the 2018 free agency period. The Clippers are also reportedly signing Mike Scott.
Photo courtesy of USA Today Sports Images.