After a 2017 offseason in which no NBA teams replaced their head coaches, that brief period of league-wide stability came to an end early in the 2017/18 regular season, when the Suns fired Earl Watson after just four games. Since then, eight more teams have made head coaching changes, ending some of the longest-term marriages around the league.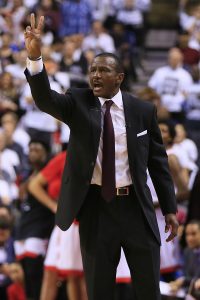 Dwane Casey (Raptors) had been the league's fourth longest-tenured head coach, while Mike Budenholzer (Hawks) had been sixth on that list and Steve Clifford (Hornets) was seventh. All three of those head coaches now have new jobs with other clubs.
Of course, some of the NBA coaching changes in recent months have involved head coaches who weren't with their teams for long. When we examined the league's longest-tenured coaches a year ago, David Fizdale (Grizzlies) and Jeff Hornacek (Knicks) represented two of the three most recent hires. Both men have since been replaced.
Given all the turnover in the head coaching ranks, it's time we updated our list. Here's the current breakdown of the NBA's longest-tenured head coaches by team, sorted by the date they were hired:
Gregg Popovich, Spurs: December 1996
Erik Spoelstra, Heat: April 2008
Rick Carlisle, Mavericks: May 2008
Terry Stotts, Trail Blazers: August 2012
Doc Rivers, Clippers: June 2013
Brad Stevens, Celtics: July 2013
Brett Brown, Sixers: August 2013
Steve Kerr, Warriors: May 2014
Quin Snyder, Jazz: June 2014
Billy Donovan, Thunder: April 2015
Alvin Gentry, Pelicans: May 2015 (remained Warriors assistant through playoffs)
Fred Hoiberg, Bulls: June 2, 2015
Michael Malone, Nuggets: June 15, 2015
Tyronn Lue, Cavaliers: January 2016
Kenny Atkinson, Nets: April 2016 (remained Hawks assistant through Atlanta's playoff run)
Tom Thibodeau, Timberwolves: April 20, 2016
Scott Brooks, Wizards: April 26, 2016
Luke Walton, Lakers: April 29, 2016 (remained Warriors assistant through playoffs)
Dave Joerger, Kings: May 9, 2016
Nate McMillan, Pacers: May 16, 2016
Mike D'Antoni, Rockets: June 2016
J.B. Bickerstaff, Grizzlies: November 2017
Igor Kokoskov, Suns: May 2, 2018
David Fizdale, Knicks: May 7, 2018
James Borrego, Hornets: May 10, 2018
Lloyd Pierce, Hawks: May 11, 2018
Mike Budenholzer, Bucks: May 17, 2018
Steve Clifford, Magic: May 30, 2018
Dwane Casey, Pistons: June 11, 2018
Nick Nurse, Raptors: June 14, 2018
Photo courtesy of USA Today Sports Images.