JULY 6: The trade is now official, according to a press release from the Nuggets.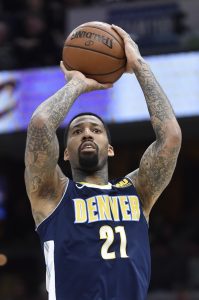 "We want to thank Wilson for seven years in Denver," Nuggets president of basketball operations Tim Connelly said in a statement. "As good as a player as he is, he's an even better person. He will be a great addition in Philly and we will certainly all be rooting for him."
JULY 3: The Sixers and Nuggets have agreed to a deal that will send Wilson Chandler and draft considerations to Philadelphia, league sources tell ESPN's Adrian Wojnarowski (Twitter link). Shams Charania of Yahoo Sports (Twitter link) first reported that the two teams were close to a deal involving Chandler.
It's a swap that makes sense for both teams. The Sixers have cap room available to absorb Chandler's $12.8MM salary for 2018/19, and the deal will net them a solid veteran forward who had a down year in 2017/18 but has averaged 13.3 PPG and 5.6 RPG with a .441/.351/.753 shooting line during his last five seasons in Denver.
Chandler is on an expiring contract, so he won't impact the 76ers' cap flexibility for 2019. Meanwhile, the team will also receive draft considerations in the deal. According to Jake Fischer of SI.com (Twitter link), Philadelphia will acquire the Nuggets' 2021 second-round selection, as well as the ability to swap second-rounders with Denver in 2022.
As for the Nuggets, the only incoming asset they'll receive from the Sixers in the trade itself is cash, per Fischer. However, shedding Chandler's salary and using only a second-round pick to do it represents a big financial win for team ownership — with new deals for Nikola Jokic and Will Barton set to hit the books, Denver's team salary was projected to be way over the tax line.
By moving Chandler, the Nuggets' projected tax bill will drop by approximately $37MM, and the team will also avoid paying Chandler's $12.8MM salary, creating nearly $50MM in total savings, tweets ESPN's Bobby Marks. The Nuggets still could end up over the tax threshold, but has a much easier path to get below it now, if they so choose. Kenneth Faried ($13.76MM) and Darrell Arthur ($7.46MM) are still candidates to be traded or stretched.
The Nuggets will also create a trade exception worth Chandler's salary ($12,800,562) in the deal. They'll have a year to use it.
Although the move will eat up most of the Sixers' remaining cap room and likely take them out of the market for major free agents, the team still has plenty of trade options. As Marks notes, Chandler could even theoretically be included in a trade package right away, since CBA rules don't restrict a team immediately flipping a player if he was acquired using cap space. However, the 76ers like Chandler's two-way ability and are planning to hang onto him, tweets TNT's David Aldridge.
Photo courtesy of USA Today Sports Images.