4:17pm: The move is official, with the Suns issuing a press release to announce that they've waived Williams.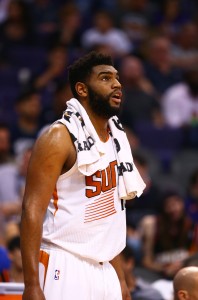 12:19pm: The Suns are waiving big man Alan Williams, reports John Gambadoro of Arizona Sports 98.7 (Twitter link). Williams will become an unrestricted free agent if and when he clears waivers.
Williams, 25, played well for the Suns in 2016/17, averaging 7.4 PPG and 6.2 RPG in just 15.1 minutes per contest (47 games). His performance earned him a three-year, $16MM+ deal with Phoenix last summer, though only the first year's salary was fully guaranteed.
Williams' 2017/18 season was derailed before it began, as a meniscus injury sidelined him for nearly the entire year. He appeared in just five games for the Suns down the stretch.
By waiving Williams, the Suns will no longer be on the hook for his $5.52MM salary for 2018/19. According to Basketball Insiders' data, the language in the contract called for a $1MM partial guarantee if Williams met certain minute, weight, and body fat requirements, but considering he only played 70 minutes in 2017/18, he presumably didn't meet those criteria.
Williams' release will create enough cap room for the Suns to finalize Trevor Ariza's reported one-year, $15MM deal, but not much beyond that. By my count, if Phoenix also cuts Shaquille Harrison, who has a non-guaranteed salary, the team could get up to about $4MM in space after signing Ariza.
According to Scott Bordow of The Arizona Republic (via Twitter), the Suns haven't ruled out the possibility of re-signing Williams to a smaller deal after he clears waivers.
Photo courtesy of USA Today Sports Images.