Twenty-three players became eligible for rookie scale extensions when the 2018/19 NBA league year began in July. One of those 23, Devin Booker, quickly finalized a new deal with the Suns, leaving 22 other players who could sign rookie scale extensions before the October 15 deadline. In the weeks leading up to that deadline, we'll be taking a closer look at some of the strongest candidates for new contracts.
Our examination of this year's candidates for rookie scale extensions continues today with Cavaliers big man Larry Nance Jr. Let's dive in…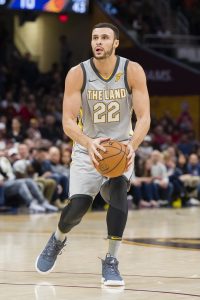 Why the Cavaliers should give him an extension:
The Cavaliers liked Nance enough at last season's trade deadline that they were willing to give up a first-round pick and take on Jordan Clarkson's contract – not exactly a bargain – to acquire him from the Lakers, despite the fact that the deal helped pave the way for LeBron James to eventually sign with L.A.
Nance struggled a little to adjust to his new team, playing just 15.4 minutes per game in the postseason, but he provided the Cavs with the sort of energy and athleticism that their frontcourt had been lacking. For the season, Nance established new career highs with 8.7 PPG, 6.8 RPG, and a .581 FG%, showing an ability to run the floor, finish at the rim, and guard multiple positions on defense.
While the sample size wasn't huge and his numbers were certainly boosted by playing major minutes alongside James, Nance's on/off-court stats for the Cavs were impressive — the team had a 102.7 defensive rating during his minutes, compared to a 110.9 mark for the rest of the season.
Taking into account his on-court ability, his age (25), and his familial ties to the franchise – Larry Nance Sr. was one of the best players in Cavs history – it makes sense that the Cavs would view Nance Jr. as a long-term building block.
Why the Cavaliers should avoid an extension:
Nance has yet to enjoy a true breakout season, and it's not entirely clear what such a year would look like. He doesn't have an outside shot and probably isn't the type of player who will ever average 20 PPG in a season.
Of course, that same sentiment applies to Clint Capela, who just secured a five-year deal with the Rockets worth between $80-90MM, so it's not as if Nance doesn't have value. But unlike Capela, who has developed into one of the NBA's best interior defenders, Nance isn't an elite rim protector. While he's solid on that end of the floor, Nance may not be capable of anchoring a defense.
Even if the Cavs do view Nance as part of their future, the team may want to see what he looks like in a LeBron-less rotation during the 2018/19 season before making a significant financial investment in him. After years of the Cavs' game plan revolving around James and Kyrie Irving, it remains to be seen how the leftover pieces will fit together going forward.
Points of comparison:
Among recent rookie scale extension recipients, the two best comparables for Nance are probably Gorgui Dieng and Cody Zeller, two big men who aren't exceptional scorers or rim protectors. Both players signed four-year extensions, with Dieng getting $62.8MM while Zeller received $55.63MM.
Of course, both of those extensions came during the infamous summer of 2016. Teams have tightened up their spending since then, so I'm not sure Nance will be able to match or exceed those deals. A better point of comparison might be a player like Jusuf Nurkic, who signed a four-year contract with the Trail Blazers this summer that has a base value of $48MM, plus incentives.
Nurkic's skill set isn't necessarily the same as Nance's, but he plays a similar role in Portland to the one Nance figures to have in Cleveland, as the team's third or fourth option. A deal in the Nurkic range is much more realistic for Nance that one in the neighborhood of Capela's.
Cap outlook:
After several years in the tax, the Cavaliers have actually done a pretty good job clearing their cap of major commitments in 2019/20 and beyond.
Currently, Cleveland has about $77MM in guaranteed salary on its '19/20 cap. Starting in 2020/21, Kevin Love is the only guaranteed contract only the Cavs' books, with Collin Sexton and Ante Zizic likely to join him via rookie-contract team options. In other words, a new deal for Nance shouldn't create any cap or tax issues for the club down the road.
If Nance doesn't sign an extension this year, his cap hold would be just shy of $7MM in 2019. The difference between that figure and the potential starting salary in an extension probably isn't big enough to justify waiting to sign him as a restricted free agent, assuming the Cavs want to get him locked up. Especially since Cleveland probably won't be a major player in 2019 free agency.
Conclusion:
Nance and the Cavaliers reportedly have mutual interest in a long-term arrangement, and talks between the two sides were said earlier this month to be "ongoing."
While I don't view Nance as the sort of slam-dunk extension candidate who needs to be secured as soon as possible, it wouldn't surprise me if the Cavs make a strong effort to finalize a deal by October 15. With James gone, the team will want to show that it's still a desirable destination — extending Love was a good first step, and I expect re-upping Nance to be the next phase of that plan.
Nance may not get the sort of payday he would have had he been negotiating in 2016, but with the cap expected to take another modest jump next summer and the Cavs seemingly enthusiastic about his potential, the big man should still do pretty well.
Will Nance get extended by October 15?
Our prediction: Yes.
Our estimate: Four years, $50MM.
Photo courtesy of USA Today Sports Images.