NBA teams have now completed the brunt of their offseason work, with the draft and free agency practically distant memories. Still, with training camps more than a month away, most clubs around the league have at least one or two outstanding issues they've yet to address.
Over the next week, we're looking at all 30 NBA teams, separating them by division and checking in on the key outstanding question that each club still needs to answer before the 2018/19 regular season begins.
After focusing on the Atlantic on Monday, we're moving on to the Central today…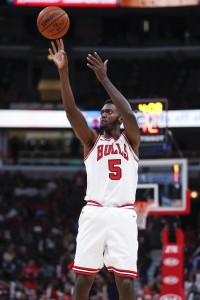 Chicago Bulls
Will the Bulls sign Bobby Portis to a rookie scale extension this year?

Even before Portis was technically eligible to sign a rookie scale extension, a report indicated that he and the Bulls were discussing the possibility of a new deal. That was a strong signal that there was legitimate interest on both sides in getting something done this year.
The Bulls will have cap room available next summer and may want to wait on Portis' contract in order to maximize their flexibility in 2019. But I wouldn't be surprised if that's not a huge concern for the team — Portis' cap hold as a restricted free agent would be about $7.5MM, so if he signs a new contract now that goes into effect in 2019/20, it's unlikely to significantly increase that cap charge and compromise Chicago's cap space.
The Bulls and Portis have until October 15 to work something out. Last we heard, talks between the club and the forward's camp were ongoing.
Cleveland Cavaliers
Will the Cavs eventually re-sign Rodney Hood?

The Cavaliers actually have several questions still to address. Will their long-rumored deal with David Nwaba be finalized anytime soon? Will Larry Nance get an extension this offseason? Will J.R. Smith or anyone else be traded before the season begins? Still, Hood's status is the biggest question mark for the Cavaliers at this point, as he's the most noteworthy free agent from the class of 2018 who remains unsigned.
Because Hood is a restricted free agent and there doesn't appear to be a rival suitor out there ready to put an offer sheet on the table, Cleveland isn't under pressure to get a deal done right away. The apparent standoff between Hood and the Cavs could last several more weeks. Last year, for instance, RFAs like Alex Len, Nikola Mirotic, and JaMychal Green didn't resolve their situations until the last week of September when training camps got underway.
We'll have to wait to see whether Hood will go the Len route – signing his one-year qualifying offer – or if he'll be able to agree to terms on a multiyear deal with the Cavs, like Mirotic and Green did with their respective clubs last September.
Detroit Pistons
Is the Pistons' roster set?

There are no burning questions looming over the Pistons as training camp approaches. Detroit has 15 players on guaranteed contracts and both its two-way contract slots filled. There are no major trade candidates on the roster. And it looks like the team is just about done making changes to its coaching staff and front office.
It remains to be seen whether senior advisor Ed Stefanski will officially get a general manager or president of basketball operations title, but there's little intrigue there — he has led the Pistons' front office this offseason and is the team's effective head of basketball operations, even if he doesn't have the usual title.
So our question for the Pistons is whether this is the roster that will open the season. Jon Leuer is hurt again, and there's not a ton of depth in the frontcourt behind Andre Drummond and the oft-injured Blake Griffin. It remains to be seen whether Henry Ellenson is ready for major minutes or if Zaza Pachulia can still play them.
The Pistons have plenty of depth at point guard and on the wing, so it will be interesting to see if they trade in any of that depth for one more frontcourt contributor. Even Detroit's two-way players – Reggie Hearn and Keenan Evans – are guards, so perhaps the club will consider replacing one of them with a big man for insurance purposes.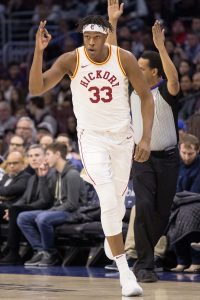 Indiana Pacers
Will Myles Turner get a rookie scale extension from the Pacers this year?

Turner was expected to take a huge step forward last season with Paul George no longer in Indiana, but he was nagged by injuries throughout the season and had his role adjusted to some extent to accommodate Domantas Sabonis' breakout year. The 22-year-old Turner should still be a major part of the Pacers' future, but after a modest showing in 2017/18 (12.7 PPG, 6.4 RPG, .479 FG%), it's not clear if the two sides will be able to compromise on his long-term value this offseason.
I expect Turner's representatives to push for a long-term extension at least in the Clint Capela range ($16-18MM annually). The Pacers, who are poised to open up major cap room next summer and still have to figure out if the Turner/Sabonis pairing can succeed, may be reluctant to invest that heavily quite yet.
Like Portis and the Bulls, Turner and the Pacers will have until October 15 to strike a new deal. If negotiations get serious, it's likely to happen closer to that deadline. And if the two sides can't reach an agreement, Turner will be on track for restricted free agency in 2019.
Milwaukee Bucks
Who will be the Bucks' 15th man for the regular season?

It's still possible that the Bucks will be able to work out a trade that sends out a player like Matthew Dellavedova or John Henson. Assuming the current 14 players on guaranteed salaries make the regular season roster though, that leaves just one open spot, with multiple candidates to fill it.
Tyler Zeller will be on a non-guaranteed deal and won't necessarily be assured of a roster spot. The same goes for Shabazz Muhammad. Training camp invitees like Travis Trice, Brandon McCoy, and Jordan Barnett will likely end up with the Wisconsin Herd, but perhaps one of them becomes a contender for that 15th roster spot with a strong preseason.
Jason Terry also remains a wild card in the Bucks' decision-making process. Terry has said multiple times that he wants to play one more NBA season, and he has spent the last two years in Milwaukee. In 2017, he didn't sign with the Bucks until mid-September, so we can't rule out the possibility of him returning to the team once more. If he does, he'd almost certainly have the upper hand for that final opening on the roster.
Photos courtesy of USA Today Sports Images.