AUGUST 31: The Thunder have officially waived Singler, the team announced today in a press release.
AUGUST 30: The Thunder will part ways with forward Kyle Singler, according to ESPN's Adrian Wojnarowski, who reports (via Twitter) that the team is waiving Singler and using the stretch provision to help reduce the cost of this year's roster.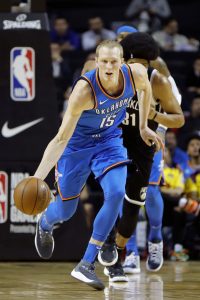 The move had been expected to happen at some point this week, since August 31 is the last day that teams can waive a player and stretch his 2018/19 salary across multiple seasons. A player released after Friday can have his future salaries stretched, but his '18/19 cap will remain unchanged.
Singler is owed $4,996,000 for 2018/19 and $5,333,500 for 2019/20, but his second-year salary is non-guaranteed, meaning the Thunder will only be responsible for paying him this season's salary. The club will have the ability to stretch the cap hits across five seasons, resulting in annual charges of $999,200 through 2022/23.
While the savings for this year may not appear massive, the impact on the Thunder's tax bill will be significant. With Singler's full cap hit on the roster, OKC had a team salary of $149,579,364 and a projected tax bill of $93,193,411, by our count. Stretching Singler will reduce those figures to $145,582,564 and $73,785,429, respectively.
In total, the Thunder will trim the projected cost of their roster from $242,772,775 to $219,367,993, good for more than $23.4MM in savings, assuming they don't fill Singler's spot on the roster with someone else. Once Singler is officially released, the team will have 14 players on guaranteed deals.
Beyond the financial implications of the move, cutting Singler made sense for the Thunder from an on-court perspective. While Singler's solid three-point shooting in his first three NBA seasons (.378 3PT%) earned him a long-term contract from the Thunder, the 30-year-old has regressed in recent years and fell out of Oklahoma City's rotation in 2017/18, appearing sparingly in just 12 games.
Singler will become an unrestricted free agent once he clears waivers.
Photo courtesy of USA Today Sports Images.