SEPTEMBER 18: The Hawks have filled their offseason roster by officially signing Aldrich, the team announced today in a press release.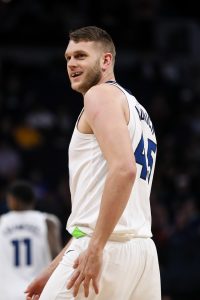 SEPTEMBER 6: The Hawks have reached an agreement with free agent center Cole Aldrich on a contract, reports Charley Walters of The St. Paul Pioneer Press (Twitter link). According to Darren Wolfson of 1500ESPN (via Twitter), Aldrich will sign a non-guaranteed camp deal with Atlanta.
Aldrich, who will turn 30 next month, spent the last two seasons in Minnesota, playing a limited role for the Timberwolves. In 2017/18, he appeared in just 21 games and played only 49 total minutes. While his contract covered the 2018/19 season, Aldrich's salary for the coming year only featured a modest partial guarantee, so the Wolves waived him in June before the full guarantee kicked in, making him an unrestricted free agent.
An eight-year veteran, Aldrich has never played a huge role for any NBA team since entering the league as the 11th overall pick in 2010, but he has logged 339 total games for six clubs. His most productive season came in 2014/15, when he averaged 5.5 PPG and 5.5 RPG in 61 contests (16.0 MPG) for the Knicks.
Before making their reported agreement with Aldrich official, the Hawks have two openings on their 20-man offseason roster. However, 15 of their 18 players currently under contract have guaranteed standard contracts for 2018/19, leaving no clear path for the veteran big man to make the regular season roster.
Still, Wolfson suggests that Aldrich is "motivated" to stick with Atlanta, so we'll see if the club considers trading or waiving any players from its presumed 15-man squad to open up a spot for the former Timberwolf. Another former lottery pick, Thomas Robinson, will also be in camp with the Hawks on a non-guaranteed deal in the hopes of claiming a roster spot.
Photo courtesy of USA Today Sports Images.