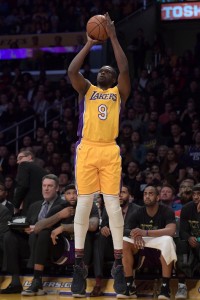 3:23pm: The signing is official, the team's PR department tweets.
1:37pm: Minnesota has reached a one-year, $2.4MM agreement with free agent forward Luol Deng, according to Adrian Wojnarowski of ESPN.
Deng becomes the latest member of a group that has been dubbed the "Timber-Bulls," made up of coach/executive Tom Thibodeau and former Chicago players Jimmy Butler, Derrick Rose and Taj Gibson. Deng reached his career peak playing for the Bulls under Thibodeau with a pair of All-Star appearances.
The low point of Deng's career came last season with the Lakers, when he played 13 minutes on opening night and was benched for the rest of the year. Deng didn't have any physical problems that kept him off the court, but he didn't fit in with the youth movement launched by team president Magic Johnson and GM Rob Pelinka.
Deng agreed to a buyout last week that affects the final two seasons of the four-year, $72MM contract he signed in 2016. To get his freedom from the Lakers, Deng agreed to give back $7.5MM of the $36.8MM remaining, with 48.9% coming from this year's salary and the rest from the 2019/20 figure.
Before being sidelined last year, Deng was coming off a disappointing debut season with the Lakers, posting a 7.6/5.3/1.3 line in 56 games while shooting 39% from the field. His last good season came with Miami in 2015/16 when averaged 12.3 PPG and 6.0 PPG in 74 games.
Minnesota has just 12 guaranteed contracts, so finding space for Deng won't be an issue. The Wolves had their full $3.382MM bi-annual exception available, but Deng agreed to sign for the veteran's minimum. The agreement doesn't come with any guarantee of playing time, Wojnarowski adds.
Photo courtesy of USA Today Sports Images.