After two years in Los Angeles, Luol Deng finalized a buyout agreement with the Lakers over the weekend and is set to become an unrestricted free agent. While he'll still receive most of the money left on his deal with L.A., Deng will be free to sign with a new team.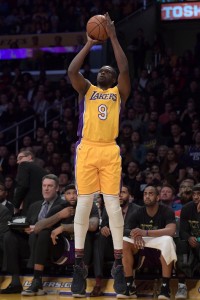 A two-time All-Star in 2012 and 2013, Deng is no longer the dynamic, game-changing player he was in his prime. However, he's just 33 years old and showed during the NBA Africa game this summer that he still has something left in the tank. The Lakers may have chosen not to play Deng at all after last year's season opener, but that doesn't mean he's not capable of contributing to an NBA team in 2018/19.
One reason Deng was willing to accept a buyout from the Lakers was his desire to get back on the court for a new club, so it will be interesting to see how he balances that appetite for regular playing time with an interest in playing for a potential contender. It's possible there are some teams that could offer both.
As we wait to see what Deng's future holds, here are several teams that could make sense for the veteran forward:
Minnesota Timberwolves: At least one report has already linked Deng to the Timberwolves, which comes as no surprise, given the presence of Tom Thibodeau in Minnesota. Deng's old coach in Chicago has brought in a handful of former Bulls, including Jimmy Butler, Taj Gibson, and Derrick Rose, and would surely find room on the roster for Deng if he's interested in signing with the Wolves. It doesn't hurt that Minnesota still has a couple regular season roster spots available.
Houston Rockets: Deng was never an elite three-point shooter, so he's not quite an ideal three-and-D wing for Houston's system, particularly as he enters his mid-30s. Nonetheless, the veteran may appeal to a Rockets team that's in the tax and in need of one more wing — a minimum-salary deal for Deng would be more affordable and less risky than addressing that need in a trade.
Golden State Warriors: Having entered the offseason expecting to fortify their depth on the wing, the Warriors instead spent their taxpayer mid-level exception on DeMarcus Cousins. The Dubs' offseason work will likely be done once they re-sign restricted free agent Patrick McCaw, but if they can't find common ground with McCaw, Deng could be an interesting alternative. Current Warriors assistant Ron Adams spent a number of seasons on the Bulls' staff coaching Deng.
Toronto Raptors: There's another coaching connection to Deng in Toronto, where former Bulls assistant Adrian Griffin has been hired as Nick Nurse's lead assistant. The Raptors have no shortage of depth at small forward, so they might not be able to guarantee Deng many minutes, but if the club plans to part ways with someone like Norman Powell or C.J. Miles to reduce its tax bill, there may be an opening here.
Milwaukee Bucks: The Bucks were named last month as one of the teams that inquired about Kent Bazemore's availability, a signal that they're still in the market for help on the wing. Although there have been no reports suggesting that interest would extend to someone like Deng, it's not a stretch to imagine him as the sort of player new head coach Mike Budenholzer would appreciate.
Charlotte Hornets: A lottery team last year, the Hornets probably have more modest expectations in 2018/19 than the rest of the clubs on this list. They also have plenty of options at forward already, with guys like Nicolas Batum, Marvin Williams, and Michael Kidd-Gilchrist doing many of the things Deng does. Still, they're worth mentioning because it was their general manager, Mitch Kupchak, who originally signed Deng to that huge four-year contract with the Lakers. Even though that deal didn't work out, Kupchak may be willing to roll the dice again at a fraction of that price.
While I view the teams listed above as the best fits for Deng, there are several more possible landing spots for him around the NBA, such as the Pelicans, Spurs, Pacers, and Heat, among others. With training camps set to get underway in about three weeks, we'll see whether he's on an NBA roster by then.
Photo courtesy of USA Today Sports Images.