9:08pm: The signing is official, according to the NBA.com transactions log. The contract is four years and $44.8MM, Joe Vardon of The Athletic tweets. Vardon adds (via Twitter) that the deal will have declining annual salaries, so year one will be worth $12.7MM while the fourth-year salary will be just $9.6MM.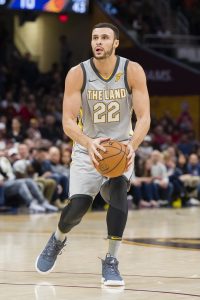 3:55pm: The Cavaliers and Larry Nance Jr. have agreed to a rookie scale contract extension, beating today's 5:00pm CT deadline, reports Chris Haynes of Yahoo Sports (Twitter link). League sources tell Haynes that Nance's new deal with Cleveland is worth $45MM over four years.
Nance, 25, was acquired by the Cavs at last season's trade deadline as part of a deal with the Lakers that also sent Jordan Clarkson to Cleveland. The athletic young big man struggled a little to adjust to his new team, playing just 15.4 minutes per game in the postseason, but he provided the Cavs with the sort of energy and athleticism that their frontcourt had been lacking.
For the season, Nance established new career highs with 8.7 PPG, 6.8 RPG, and a .581 FG%, showing an ability to run the floor, finish at the rim, and guard multiple positions on defense. He appeared to have a noticeable impact on defense — the Cavs had a 102.7 defensive rating during his minutes, compared to a 110.9 mark for the rest of the season.
We heard all the way back in June that there was "mutual interest" between the Cavaliers and Nance in a long-term extension, so he always seemed like one of the likeliest candidates among the players eligible for rookie scale extensions to get a deal done. His connection to Cleveland – where his father played and earned multiple All-Star nods – was likely a factor in those extension talks too.
While an average annual value of $11MM+ may seem steep for Nance, it's not far off from the rookie scale extensions we've seen comparable players sign in recent years. When I previewed Nance's case for an extension in August, I estimated an annual salary in the $12-12.5MM range on a four-year deal.
Photo courtesy of USA Today Sports Images.