4:11pm: The Clippers have officially announced their trade with the Pelicans and confirmed that they've waived both Ajinca and Evans. L.A. is now in compliance with the regular season roster limit.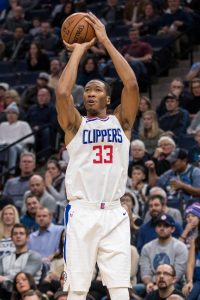 2:19pm: The Clippers and Pelicans have reached a trade agreement that will send Alexis Ajinca to Los Angeles and Wesley Johnson to New Orleans, according to Shams Charania of The Athletic (Twitter link). Marc Stein of The New York Times first reported (via Twitter) that the two teams were in advanced discussions on a swap involving Ajinca and Johnson.
From the Clippers' perspective, the trade will simply be about saving a little money before they make their final roster cuts. Ajinca ($5.29MM) earns a more modest 2018/19 salary than Johnson ($6.13MM) and both players are on expiring deals.
According to ESPN's Adrian Wojnarowski (via Twitter), the Clippers will waive Ajinca after acquiring him. 2017 second-round pick Jawun Evans will be Los Angeles' other cut, Wojnarowski adds. That means that non-guaranteed players Patrick Beverley and Tyrone Wallace will both open the regular season on the Clips' roster.
There are some teams that like Evans, according to Keith Smith of RealGM.com (Twitter link), but those clubs opted not to trade for the second-year guard, who could draw interest on waivers or as a free agent if he goes unclaimed.
As for the Pelicans, they weren't expecting to get much out of Ajinca, who missed the entire 2017/18 season with knee issues and still hadn't been cleared for contact at the start of training camp. By swapping him for Johnson, New Orleans will add some veteran depth at a position of need, without sacrificing future cap flexibility.
Johnson, 31, was the fourth overall pick in the 2010 draft, but has never been more than a role player at the NBA level. Last season, the 6'7″ wing averaged 5.4 PPG and 2.9 RPG with a .408/.339/.741 shooting line and solid defense in 74 games (40 starts) for the Clippers.
Photo courtesy of USA Today Sports Images.