5:20pm: The Pacers have officially finalized Turner's new deal, issuing a press release to announce the extension. The contract will have flat cap hits of $18MM across four years, starting in 2019/20, according to ESPN's Bobby Marks, who notes that the $8MM in incentives are classified as unlikely (Twitter link). The deal features no team or player options, adds Michael Scotto of The Athletic (via Twitter).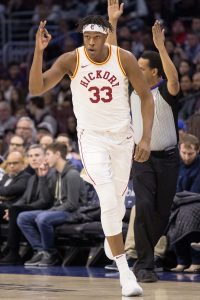 4:24pm: Turner and the Pacers are now in agreement on a four-year, $72MM extension that can be worth up to $80MM via incentives, reports Wojnarowski (via Twitter).
3:05pm: Turner and the Pacers are still going back and forth on the exact details of a four-year deal in the $70MM+ range, according to ESPN's Adrian Wojnarowski (Twitter link). Wojnarowski notes that the extension is expected to be completed before today's 5:00pm CT deadline.
2:47pm: The Pacers have reached an agreement on a rookie scale contract extension for Myles Turner in advance of today's deadline, reports Shams Charania of The Athletic (Twitter link). According to Charania, Turner will sign a new four-year deal worth $80MM. The extension will begin in 2019/20, keeping the young center off next summer's restricted free agent market.
The 11th overall pick in 2015, Turner appeared to be on the verge of a breakout heading into the 2017/18 campaign after posting 14.5 PPG, 7.3 RPG, and 2.1 BPG in his second NBA season. However, nagging injuries and the arrival of fellow center Domantas Sabonis helped limit Turner's impact — he averaged just 12.7 PPG, 6.4 RPG, and 1.8 BPG in 65 games.
By all accounts, Turner had a productive offseason and looks to be healthy and in great shape entering the 2018/19 campaign. The Pacers are clearly confident in the strides that their longest-tenured player has made, based on the reported terms of his new deal.
While we'll wait on the specifics to see if there are any incentives or options that impact the overall value of Turner's extension, an average annual value of $20MM per year would top Clint Capela's new contract with the Rockets, which maxes out at $90MM over five years with incentives. Turner's new deal will fall short of the rookie scale extensions signed in recent years by centers like Rudy Gobert and Steven Adams, who got about $24-25MM annually.
Turner's new extension will cut into Indiana's cap room for 2019, but the club had less than $40MM in guaranteed salaries on its books for 2019/20 prior to today's agreement. The Pacers should still have significant space available next July, as contracts expire for veterans like Thaddeus Young, Bojan Bogdanovic, Darren Collison, Tyreke Evans, and Cory Joseph.
Turner is the fourth player to agree to a rookie scale extension this offseason, joining Devin Booker (Suns), Karl-Anthony Towns (Timberwolves), and Justise Winslow (Heat).
Photo courtesy of USA Today Sports Images.