Every week, Hoops Rumors takes a closer look at players who will be free agents or could become free agents next offseason. We examine if their stock is rising or falling due to performance and other factors. This week, we turn our attention to the Southwest Division:
Wesley Matthews, Mavericks, 32,  SG (Down) – Signed to a four-year, $70MM deal in 2015
Matthews got off to a strong start, reaching the 20-point mark in six of the first 10 games. An injury set him back as a mild hamstring strain kept him out of four games. He's shot 33% from 3-point range in the last two games since returning to action. There's always a market for players who can make the long ball but at his age, Matthews is probably looking at a short-term deal in his next contract and might have to settle for a second-unit role.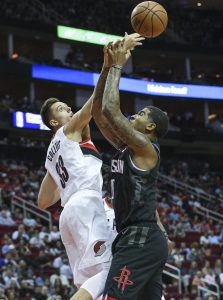 Marquese Chriss, Rockets, 21, PF, (Down) – Signed to a three-year, $9.2MM deal in 2016
Chriss received a fresh start when the Suns traded him to a contender. So far, Chriss has failed to take advantage of the situation, even after the club decided to part ways with Carmelo Anthony. Chriss has only appeared in seven games and hasn't played more than eight minutes in any of them. It's hard to believe he was chosen with the No. 8 overall pick in 2016. Chriss is still younger than many college players, so he'll get another chance somewhere else, but he'll have to settle for a modest contract.
Shelvin Mack, Grizzlies, 28, PG (Up) – Signed to a one-year, $2MM deal in 2018
The Grizzlies brought in Mack on a veteran's minimum deal to back up Mike Conley. Mack has been a steady presence in the rotation, averaging 9.9 PPG and 3.6 APG while keeping his turnovers down (1.3 per game). He's also shot it well from long range (41.8%). Mack isn't flashy but he's a competent second-unit floor leader and he might get more than one year on the open market next summer.
Nikola Mirotic, Pelicans, 27, PF (Up) — Signed to a two-year, $15MM deal in 2017
Mirotic made national headlines last season when Bulls teammate Bobby Portis slugged him during a practice dispute. Far removed from that incident, Mirotic is enjoying a career year with the Pelicans. He's averaging 19.2 PPG and 10.5 RPG in 31.6 MPG. His 3-point percentage is down from last season but is still a solid 37%. Mirotic should receive plenty of attention on the open market as a stretch four who can also pound the glass.
Rudy Gay, Spurs, 32 (Up) – Signed to a one-year, $10MM deal in 2018
Gay had an ugly outing against Minnesota on Wednesday (three points in 19 minutes) but otherwise he's been quite efficient this season. He's shooting 49.2% from the field and 46.7% outside the arc and has also been a factor on the boards (7.1 per game). Gay has been thrust into a starting role with the injury-riddled Spurs but he'll probably be looked upon as a second-unit contributor when he returns to the open market. He's showing he still has something left in the tank.
Photo courtesy of USA Today Sports Images.