The Lakers have signed Tyson Chandler, GM Rob Pelinka announced today (via the team's website). Chandler was waived by the Suns over the weekend and cleared waivers earlier this evening.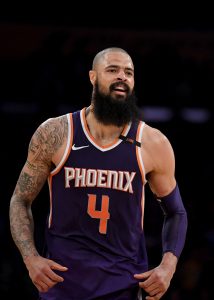 "Having observed our roster for the first 10 games of this young season, one of the areas that [president of basketball operations Magic Johnson] and I discussed with [head coach] Luke [Walton] that we desired to upgrade is interior defense and rebounding," said Pelinka.
"In Tyson Chandler, we addressed that need, and so much more. We are excited that Tyson will bring championship-level experience to our Lakers team that will solidify our veteran leadership and help positively shape our young core. We are thrilled for Tyson to join us as we progress towards our ultimate goals as a team."
The deal will be a one-year pact for the veteran's minimum, per Marc Stein of the New York Times. He'll receive approximately $2.11MM this season, which is the same amount that he gave up in his buyout agreement with the Suns. The Lakers' cap hit for the deal will be about $1.33MM.
The news of Chandler coming to the Lakers broke on Sunday and LeBron James told local media members that he was thrilled with the reports. "We love the fact that we're going to get another veteran. A guy who plays hard, who is very smart and another champion," James said. Chandler previously played with James on the 2012 Gold Medal Olympic team.
The 4-time MVP added that Chandler "adds depth" to an area the team has "struggled" with at times this season. Los Angeles signed JaVale McGee during the offseason and he's played well. However, the team lacks a reliable big behind the former Warrior.
Chandler is expected to make his debut for the Lakers on Wednesday against the Timberwolves, Jordan Schultz of ESPN.com reports (Twitter link).
Photo courtesy of USA Today Sports Images.