The Suns officially reached a buyout agreement with Tyson Chandler and have requested waivers on the veteran center, the team confirmed today in a press release. It was first reported on Saturday that the two sides would be parting ways.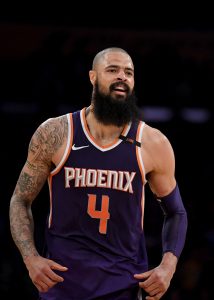 "We want to thank Tyson for his contributions to the Suns over the past three-plus seasons," interim co-GM James Jones said in a statement. "With respect for Tyson's accomplished career, today's move gives him the chance to pursue a new opportunity while allowing our younger players to continue developing. Tyson is a consummate professional and we wish him all the best."
Chandler's role with the Suns had dwindled, from 25.0 minutes per game last season to just 12.7 MPG in the early going this year. The 18-year veteran started all 46 games he played for Phoenix in 2017/18, but had been moved to the bench this season due to the arrival of first overall pick Deandre Ayton. Chandler averaged 6.5 PPG and 9.1 RPG last year.
Chandler was in the final year of a contract that paid him approximately $13.59MM this season. Phoenix will be able to trim some of that cap hit off the books as a result of the buyout agreement, while the 36-year-old figures to sign a minimum salary with his new team.
That new team will be the Lakers, according to multiple reports. ESPN's Adrian Wojnarowski (Twitter link) indicated on Saturday that the framework for a buyout agreement between Chandler and the Suns had been in place for a little while, but it wasn't put into motion until the big man knew he had a landing spot lined up.
The Lakers have been thin at center this season, leaning heavily on JaVale McGee and relying on smaller players to spend time at the five, so Chandler should see some playing time in Los Angeles. He'll be eligible to sign with L.A. after he clears waivers on Tuesday.
Photo courtesy of USA Today Sports Images.