Over the course of the 2018/19 NBA season, up until February's trade deadline, we're keeping an eye on potential trade candidates from around the NBA, monitoring their value and exploring the likelihood that they'll be moved. Each of these looks at possible trade candidates focuses on a specific division, as we zero in on three players from that division.
The Southeast could be one of the NBA's most active divisions leading up to this season's trade deadline. It features a pair of underachieving teams (the Heat and Wizards) who could badly use a trade to shake things up, along with at least one lottery-bound club that looks like an obvious seller (the Hawks). It's too early to tell which direction the Hornets and Magic will go, but they're candidates to be active too.
Here's our latest look at a few possible trade candidates from the Southeast…
Otto Porter Jr., F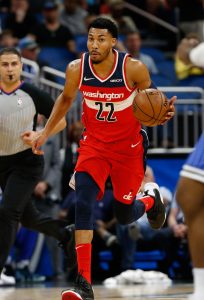 Washington Wizards
$26.01MM cap hit; $27.25MM guaranteed salary in 2019/20; $28.49MM player option for 2020/21

As I wrote earlier today when I relayed news of the Kings' renewed interest in Porter, the young forward looks like the best trade candidate of the Wizards' three highly-paid cornerstones. His contract isn't as scary as John Wall's, which will make him easier to move. Conversely, he's not as valuable an asset as Bradley Beal, meaning Washington won't be as averse to giving him up.
Although Porter's contract will make him a somewhat tricky sell, he fits the mold of the three-and-D wing that so many teams around the NBA are seeking. He'll draw interest, especially from teams that have a little cap flexibility but don't necessarily expect to be major players in free agency — like the Kings, whose expiring contracts and cap space make them an interesting potential trade partner for Washington.
The Pelicans are also said to have interest in Porter. If they're willing to include a first-round pick and a mid-sized expiring contract, it might be worth it for the Wizards to take on Solomon Hill's contract.
Dewayne Dedmon, C
Atlanta Hawks
$7.2MM cap hit; UFA in 2019

A popular subject of trade speculation last season, Dedmon stayed put at the deadline and ultimately ended up exercising his player option to remain in Atlanta for another year. There are reasons to believe that he's more likely to be traded this time around.
For one, potential suitors may have been put off by his uncertain contract situation last year. This time, his status is clear — he'll be an unrestricted free agent at season's end, so teams won't have to worry about accounting for him on next year's books.
Additionally, the Hawks may have some regrets about how they approached last season's trade deadline, when they kept Marco Belinelli and Ersan Ilyasova, then bought them out after the deadline passed. Both players ended up with the Sixers, serving as important rotation pieces into the second round of the playoffs. This season, Atlanta may be less inclined to let solid contributors get away for nothing.
While Dedmon doesn't necessarily have one specific skill that could be a difference-maker for a playoff team like Belinelli's and Ilyasova's floor-spacing abilities were, he's a solid big man who has some previous postseason experience under his belt, and he shouldn't be overly expensive.
Nikola Vucevic, C
Orlando Magic
$12.75MM cap hit; UFA in 2019

It has been a fascinating season for Vucevic and the Magic so far. Despite a modest 10-12 record, Orlando currently holds the No. 8 seed in the Eastern Conference, and Vucevic has played a huge part in the club's early success, recording career highs in PPG (20.8), FG% (.553), 3PT% (.410), and APG (3.9), among other categories.
The 28-year-old is performing like the type of player the Magic should be trying to re-sign and build around, rather than one they should be looking to dump before he reaches free agency — especially if they remain in the playoff mix. So far, there are no indications that Orlando is interested in trading Vucevic.
Still, this is a complicated situation. The Magic drafted Mohamed Bamba earlier this year to be their center of the future, and with Aaron Gordon and Jonathan Isaac in the frontcourt mix too, it looked like Vucevic might not be in the team's long-term plans.
Could the Magic realistically lock up Vucevic long-term without compromising the development of their younger players? If they commit to the veteran, would the Magic need to trade one of those other young bigs? Would they be willing to keep Vucevic for the full season and risk simply losing him in unrestricted free agency next summer without any compensation? The answers to those questions will determine whether or not Vucevic becomes available before this season's trade deadline.
Previously:
Photo courtesy of USA Today Sports Images.