Over the course of the 2018/19 NBA season, up until February's trade deadline, we're keeping an eye on potential trade candidates from around the NBA, monitoring their value and exploring the likelihood that they'll be moved. Each of these looks at possible trade candidates focuses on a specific division, as we zero in on three players from that division.
Viewed as perhaps the weakest division in the NBA coming into the season, the Southeast has been even worse than expected during the first month, with the Wizards and Heat both struggling. Not every Southeast team will be a seller at the deadline, but it looks safe to assume that at least a couple will.
Here's our early-season look at a few possible trade candidates from the Southeast…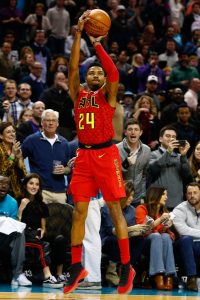 Kent Bazemore, F
Atlanta Hawks
$18.09MM cap hit; guaranteed $19.27MM player option for 2019/20
Frequently mentioned in trade rumors over the summer, Bazemore hasn't been the subject of many recent reports, but his name figures to surface again in the coming months. The 3-6 Hawks are well on their way to a spot in the lottery, and Bazemore only has one year on his contract beyond this season. He makes much more sense as a complementary three-and-D wing for a contending team than he does as a long-term piece in Atlanta.
Bazemore has struggled with his three-point shot so far in 2018/19 (.326 3PT%), but he made a career-best 39.4% of his long-distance attempts last season, and he has otherwise been solid this year, posting career bests in PPG (14.3) and FG% (.485) in the early going. His cap charge will make a deal tricky for some teams, but if Atlanta is willing to take another unwanted contract back in a deal, there should be teams with interest.
The Pelicans and Rockets were two teams linked to Bazemore during the offseason, and both clubs still have a need on the wing. New Orleans could use Solomon Hill as a salary-matching piece, while Houston could use Brandon Knight's contract for matching purposes.
Marvin Williams, F
Charlotte Hornets
$14.09MM cap hit; $15MM player option for 2019/20

Williams checks a lot of the same boxes that Bazemore does — he's a wing with good size who can knock down a three-pointer and switch between various positions on defense. He's also a little less expensive. However, there are two roadblocks in the way of a potential Williams deal.
For one, the Hornets – unlike the Hawks – have serious playoff aspirations in 2018/19 and won't want to surrender a reliable veteran who could help them get there. Secondly, Williams hasn't exactly been boosting his trade stock so far. His 6.5 PPG and .371 FG% would both be career worsts, and if he doesn't start playing better, he won't help the Hornets win or net them anything in a trade.
Charlotte's forward rotation will be worth watching this season. With rookie Miles Bridges looking great so far, it seems like just a matter of time until the Hornets part with at least one of Williams, Michael Kidd-Gilchrist, or Nicolas Batum, if they can.
Dion Waiters, G
Miami Heat
$11.55MM cap hit; contract guaranteed through 2020/21

The Heat were already loaded with shooting guard depth and exploring ways to move Waiters even before Rodney McGruder emerged as a more reliable option early this season. Now the former fourth overall pick looks even more expendable.
Unfortunately for the Heat, the ankle injury that ended Waiters' 2017/18 season early has kept him out of action so far this fall, and there's no indication of when he might return to action. The 26-year-old's contract, which still has two years left after this season, will probably still create negative value even after he gets healthy, but if he's able to get back on the court and show off some of the talent that earned him that four-year investment in the first place, it'd go a long way toward rebuilding his stock.
The Timberwolves, for instance, might view a Jimmy Butler offer of Josh Richardson, a first-round pick, and Waiters much more favorably if they thought they could count on Waiters to stay on the court and contribute.
Previously:
Photo courtesy of USA Today Sports Images.