Every week, Hoops Rumors takes a closer look at players who will be free agents or could become free agents next offseason. We examine if their stock is rising or falling due to performance and other factors. This week, we turn our attention to the Central Division:
Jabari Parker, Bulls, 24, SF (Down) – Signed to a two-year, $40MM deal in 2018
Parker is out of the Chicago's rotation and on the trading block, a massive and swift fall from grace after signing a big contract to play for his hometown team. If the Bulls can find a trading partner, Parker could be considered damaged goods and not just because of the knee injuries that set back his career. He has gained a reputation of being disinterested on defense and a ball-hog on offense. Wherever he is at season's end, it's hard to imagine that team exercising its $20MM option. Parker will be back on the market and the offers will be significantly less.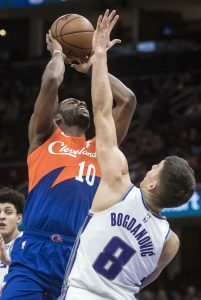 Alec Burks, Cavaliers, 27, SF (Down) – Signed to a four-year, $42MM deal in 2015
Burks is getting steady minutes under coach Larry Drew since his inclusion in the Kyle Korver deal with Utah but he isn't doing anything noteworthy with them. He's averaging 28.0 MPG and while his rebounding and assist numbers have climbed, he's shot just 33.3% from the field. Burks has not averaged better than 33% from long range over the last three seasons. He needs to pick up his production from the perimeter to draw interest in the summer. He's averaged $10.5MM in salary over the last four years — that will drop dramatically with his next contract.
Reggie Bullock, Pistons, 27, SG (Up) – Signed to a two-year, $5MM deal in 2017
Bullock was one of the NBA's best 3-point shooters — and bargains — last season when he made 44.5% of his attempts. He's proving that was no fluke. His long-range average is up to 39.8% after his career-high 33-point performance at Minnesota on Wednesday when he drained seven 3-pointers. Bullock fills an essential role for a team that needs long-range compliments to the power duo of Blake Griffin and Andre Drummond. Detroit would like to keep him but it will have competition and Bullock will receive a major pay raise wherever he winds up.
Bojan Bogdanovic, Pacers, 29, SF (Up) — Signed to a two-year, $21MM deal in 2017
Bogdanovic is a consistent offensive force on one of the league's most underappreciated teams. He's scored in double figures 23 straight games and he's averaging career highs in points (16.4), field-goal percentage (51.4) and 3-point percentage (47.5). Indiana had to decide before free agency in July whether to guarantee his $10.5MM salary and it wisely chose to keep him. Bogdanovic will surely get multi-year offers next summer, though it would be no surprise if he re-signs with the Pacers, where he's a comfy fit.
Eric Bledsoe, Bucks, 29, PG (Up) – Signed to a five-year, $70MM deal in 2014
Bledsoe has matured since being dealt from Phoenix last season and adjusted his game around a superstar talent. He's shooting a career-high 50% from the field, an excellent number for a guard, and his turnover rate is the lowest of his career. Bledsoe is the third-best player on a team that owns the Eastern Conference's second-best record. With several teams around the league looking for a point guard upgrade, the Bucks will have to shell out some major bucks to retain their floor leader.
Photo courtesy of USA Today Sports Images.