Over the course of the 2018/19 NBA season, up until February's trade deadline, we're keeping an eye on potential trade candidates from around the NBA, monitoring their value and exploring the likelihood that they'll be moved. Each of these looks at possible trade candidates focuses on a specific division, as we zero in on three players from that division.
When we last checked in on the Northwest, the Timberwolves held the NBA's top trade candidate in Jimmy Butler. Now that Butler has been moved, there are far fewer obvious trade chips in the division, where teams like the Jazz, Trail Blazers, and Nuggets have doubled down on their current cores within the last year or two.
Here's our latest look at a few possible trade candidates from the Northwest…
Jerryd Bayless, G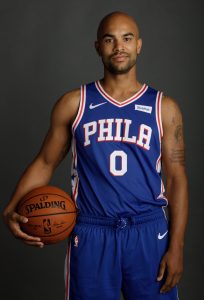 Minnesota Timberwolves
$8.58MM cap hit; unrestricted free agent in 2019

Bayless was traded by the Sixers before we could profile him as an Atlantic division trade candidate, but the same traits that made him a useful trade chip for Philadelphia will give him some value for the Timberwolves.
Whether or not Bayless will be able to contribute anything on the court in 2018/19 is somewhat irrelevant — it's his $8.58MM salary and his expiring contract that make him useful in trade talks. That cap hit makes him ideal for matching mid-level type contracts, or packaging him with other pieces (after January 12), as the Sixers did. And the fact that he'll be a free agent at season's end could appeal more to a team looking to create 2019 cap space than it will to the Wolves, who will likely remain over the cap even after clearing Bayless from their books.
It's possible that Minnesota is done dealing for now, in which case Bayless could become a buyout candidate, rather than a trade candidate, assuming he gets healthy later in the season.
Jusuf Nurkic, C
Portland Trail Blazers
$11.11MM cap hit; under contract through 2021/22

Nurkic just re-signed with the Trail Blazers over the summer, securing a lucrative new four-year deal from the club, so he's not likely to be traded anytime soon — he's not even eligible to be moved until January 15.
Still, in past years, big men like Blake Griffin and Nene Hilario have been traded just months after signing even longer-term contracts than Nurkic's. And it's worth noting that Zach Collins' ongoing development has made the idea of a Nurkic trade more viable for Portland, as ESPN's Zach Lowe observed last month.
The Blazers have been reluctant to break up their core in recent years, and if they decide to do anything drastic, it will probably happen during the offseason rather than at the trade deadline. However, I suspect that if they do take a big swing, they're more likely to move their veteran center than one of their star guards, given Collins' potential to fill a similar role at a fraction of the price. If that happens, Nurkic could be the key to helping Portland acquire a much-needed impact player on the wing.
Patrick Patterson, F
Oklahoma City Thunder
$5.45MM cap hit; $5.71MM player option for 2019/20

Like Bayless, Patterson is a trade chip by virtue of his cap hit, which the Thunder might need for salary-matching purposes if they make a deal.
Patterson's salary is more modest than Bayless', but of the eight Oklahoma City players earning more than $2.2MM, seven are starters or important rotation players who may not be expendable. The eighth is Patterson, who has struggled mightily since arriving in OKC, making him the club's most logical chip, even if his contract extends beyond this season and won't be appealing to trade partners.
If Patterson's value is too limited to make a deal work, Alex Abrines could be the Thunder trade candidate to watch — he's earning almost exactly the same salary as Patterson and is on an expiring contract.
Previously:
Photo courtesy of USA Today Sports Images.