Over the course of the 2018/19 NBA season, up until February's trade deadline, we're keeping an eye on potential trade candidates from around the NBA, monitoring their value and exploring the likelihood that they'll be moved. Each of these looks at possible trade candidates focuses on a specific division, as we zero in on three players from that division.
Entering the 2018/19 season, all five Northwest teams were projected to finish above .500. That scenario would create a dearth of sellers in the division, but that doesn't mean there are no trade candidates to be found. In fact, the NBA's most notable current trade candidate, one who has dominated headlines since mid-September, plays in the Northwest.
Here's our early-season look at a few possible trade candidates from the Northwest…
Jimmy Butler, G/F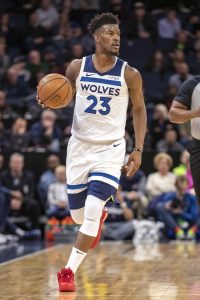 Minnesota Timberwolves
$20.45MM cap hit; $19.84MM player option for 2019/20
Since Butler's trade request went public on September 19, our archive of Butler-related rumors and news items features a staggering 74 additional stories.
The saga has taken a number of twists and turns along the way, and we don't need to belabor it in this space. Suffice it to say, Butler is very much available and at this point, it seems like just a matter of when – not if – the Timberwolves will move him.
While the Wolves could drag out the process to the trade deadline, Michael Rand of The Star Tribune offers five reasons why it would make sense for Minnesota to find a deal right now. When the club gets serious about moving its All-NBA swingman, the Heat, Rockets, Sixers, and Clippers are among the likeliest trade partners, though a dark horse suitor could always emerge.
Derrick Favors, F/C
Utah Jazz
$16.9MM cap hit; non-guaranteed $16.9MM salary for 2019/20

The Jazz have insisted for years that the Favors/Rudy Gobert frontcourt pairing can work, and at times it has. But Favors is a better fit at center than power forward, and Utah is a better team with a smaller power forward alongside Gobert — so far this season, the four-man duo of Gobert, Ricky Rubio, Donovan Mitchell, and Joe Ingles has a +18.6 net rating with Jae Crowder filling out the lineup, compared to a -7.5 rating with Favors in that last spot.
Sean Deveney of The Sporting News recently wrote that few people around the NBA expects Favors to remain in Utah in 2019/20, when his $16.9MM salary is non-guaranteed. Deveney suggested that if the Jazz could move Favors for a more versatile forward, an in-season trade would be a possibility.
It won't be easy to find a forward who would improve the Jazz and whose 2018/19 salary is similar to Favors', without any guaranteed 2019/20 money. DeMarre Carroll, who has a $15.4MM expiring deal, could be one option, but the Nets wouldn't have much need for Favors.
Malik Beasley, G/F
Denver Nuggets
$1.77MM cap hit; guaranteed $2.73MM salary for 2019/20

Beasley hasn't been the subject of any trade rumors this season and there's no indication that Denver wants to move him, so this is merely speculation on my part. However, if and when Will Barton and Isaiah Thomas get healthy, there likely won't be enough minutes to go around in the backcourt and on the wing for the Nuggets, so someone like Beasley or Torrey Craig could be the odd man out.
If the Nuggets, who currently rank 28th in the NBA in three-point percentage, go shopping for outside shooting help at the deadline, they have three sizeable trade exceptions they could use to acquire a player without sending out any salary, but they're only about $7.5MM shy of the luxury tax threshold. In certain trade scenarios, they might want to move a small salary like Beasley's or Craig's in order to avoid the tax.
Here's one hypothetical scenario involving a popular trade candidate: If the Nuggets were to send a draft pick to Cleveland for Kyle Korver, they could use one of their trade exceptions to land him, but his $7.56MM salary would nudge the team slightly over the tax line. Attaching Beasley or Craig to that draft pick would improve the package for the Cavs and allow Denver to stay under the tax.
Previously:
Photo courtesy of USA Today Sports Images.