DECEMBER 14: The Nets have officially signed Dinwiddie to his new extension, according to a press release from the team.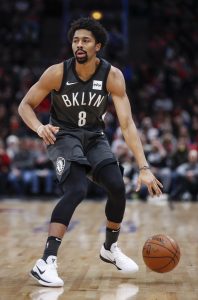 DECEMBER 13: The Nets have reached a contract extension with Spencer Dinwiddie, the team announced on social media today. The deal is a three-year, $34MM agreement and contains a player option in the third season, according to ESPN's Adrian Wojnarowski (Twitter link).
Dinwiddie was eligible to receive a four-year extension in the range of $47MM, but opted to sign a shorter deal to reach free agency sooner, Wojnarowski adds.
Dinwiddie can decline his player option to test free agency in 2021. He'll make approximately $10.6MM next season, $11.4MM in the 2020/2021 season and $12.3MM during the 2021/22 season, according to Wojnarowski.
That $10.6MM starting salary is equivalent to 120% of the NBA's estimated average salary for this season, and is the maximum amount Dinwiddie could have received on an extension.
"The journey is just beginning. I'm thankful that the Brooklyn Nets believe in me enough to give me a home," Dinwiddie wrote on social media.
Dinwiddie scored a career-high 39 points off the Nets' bench in a win over the Sixers Wednesday, adding to his successful week with the team. He's averaged 16.9 points, 4.9 assists and 2.5 rebounds in 29 games this season.
His new deal with the Nets will cut into their cap space for free agency next summer, greatly reducing their chances at opening two maximum-salary roster spots. Brooklyn originally signed Dinwiddie to a free-agent contract in 2016 after he spent two years in the G League. He was a finalist for the Most Improved Player award last season, and could be in consideration for Sixth Man of the Year this season.
Photo courtesy of USA Today Sports Images.