DECEMBER 17: The trade is now official, with both the Suns and Wizards issuing press releases to confirm the move.
DECEMBER 15: After a hectic Friday night in which a three-team deal was scrapped, the Suns have agreed to deal Trevor Ariza to the Wizards in exchange for Kelly Oubre and Austin Rivers, John Gambadoro of Arizona Sports 98.7 reports (Twitter link). The trade call with the league is scheduled for later today, per ESPN's Adrian Wojnarowski (Twitter link).
Last night's nearly completed deal would have sent Ariza to the Wizards, Rivers to the Suns and allowed the Grizzlies to acquire Oubre for Wayne Selden, two second-round picks, and one other player. The confusion came over the identity of that other player as the Grizzlies believed they were dealing MarShon Brooks while the Suns thought Dillon Brooks was headed their way.
As we relayed in a separate story, despite the nixed deal, Phoenix and Washington remained in touch to see if an Ariza trade could be completed.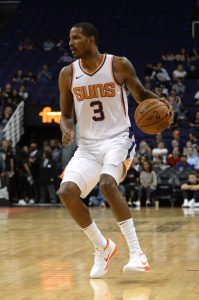 This version of an Ariza trade includes three players in the final year of their respective deals.  For Ariza, the trade means the end of a brief 26-game stint in Phoenix as he signed a one-year, $15MM deal with the Suns during the 2018 offseason. Ariza averaged 9.9 PPG, 5.6 RPG, and a .379/.360/.837 shooting line for the Suns.
This marks a homecoming of sorts for Ariza as he spent two seasons with the Wizards, including perhaps his best season as a pro in 2013/14, when he averaged 14.4 PPG and 6.2 RPG with a .456/.407/.772 shooting line. Prior to this trade, we had relayed at least eight teams had expressed interest in Ariza, including the Lakers and Rockets — two teams he had previously suited up for.
During his stint in the nation's capital, Ariza was reportedly a respected presence who, among other things, had a good impact on the team's All-Star point guard, John Wall. At 11-18, the Wizards are 2.5 games back of the Eastern Conference's eighth seed and will hope Ariza's 3-and-D ability can narrow the gap.
For the NBA-worst Suns, they acquired a pair of useful assets that could possibly be used as trade chips later in the season. Rivers, 26, has been a mainstay off the Wizards' bench, averaging 7.2 PPG and 2.4 RPG for Washington. Rivers' shooting has taken a hit this season as his field-goal percentage (39.2%) and three-point shooting (31.1%) are his worst in several seasons.
As for Oubre, 23, he averaged a career-high 12.9 PPG in 29 games (seven starts) for the Wizards. By trading Oubre, the Wizards will create a traded player exception worth his salary ($3,208,630). Washington already had four trade exceptions, including one worth $5.45MM, as our list of outstanding TPEs shows.
Oubre is set to hit restricted free agency this upcoming summer, at which point the Suns could tender him a $4.5MM qualifying offer, ESPN's Bobby Marks notes. Phoenix could flip Oubre before the trade deadline but cannot aggregate him with another player for salary-matching purposes.
Once the deal is completed, the Wizards' roster will dip below the requirement of 14. Washington will need to sign another player within two weeks to get their roster count back up to the minimum.
Photo courtesy of USA Today Sports Images.