10:09pm: The deal is now considered dead, according to reports from Wojnarowski and Tom Habestroh of NBC Sports (Twitter links).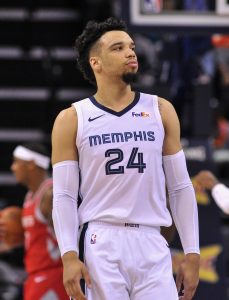 The Grizzlies and Suns didn't communicate directly during the three-team negotiations, using the Wizards as a conduit, which led to the Brooks-related confusion, sources tell Wojnarowski and Lowe (Twitter link). Memphis pulled out after the three clubs all talked directly, according to Woj, who tweets that the Suns and Wizards would have to find a new third team to complete an Ariza trade.
9:55pm: The trade is now in jeopardy due to confusion over which Brooks the Suns they believed they were getting in the deal, according to Wojnarowski and Zach Lowe of ESPN (Twitter link). Sources tell Woj that the Grizzlies won't put Dillon Brooks in the deal.
9:40pm: There's some confusion over which Brooks is going from the Grizzlies to the Suns in this proposed deal.
As detailed below, Wojnarowski and Gambadoro first reported that it was Dillon Brooks, but Woj issued a clarification to say it was MarShon Brooks. Chris Herrington of The Daily Memphian (Twitter links) has also cited sources who say it's MarShon. However, Gambadoro has insisted multiple times (via Twitter) that it's Dillon and says the MarShon reports are inaccurate.
We'll have an update as soon as there's confirmation one way or the other.
8:57pm: The Wizards are in advanced talks to acquire veteran forward Trevor Ariza from the Suns, league sources tell ESPN's Adrian Wojnarowski. According to Wojnarowski, Washington is making an effort to finalize a multi-team trade agreement involving Ariza tonight. He'll become officially trade-eligible on Saturday.
Wojnarowski reports (via Twitter) that the Grizzlies will be the third team involved in the deal. In the proposed trade, which is moving toward completion, Kelly Oubre would head to the Grizzlies and the Suns would receive Austin Rivers and two Memphis role players, according to Wojnarowski. Woj adds (via Twitter) that the Wizards would also receive a conditional 2019 second-round pick and a 2020 second-rounder from the Grizzlies.
John Gambadoro of Arizona Sports 98.7 follows up on Wojnarowski's report with more details, tweeting that Wayne Selden would head to Phoenix as part of the deal. While Gambadoro and Wojnarowski both originally had Dillon Brooks as part of the package, Woj clarifies (via Twitter) that it's actually MarShon Brooks, not Dillon, who would be sent to the Suns.
Ariza signed a one-year, $15MM deal with the Suns during the 2018 offseason after a productive four-year run in Houston. Before joining the Rockets, he spent two seasons with the Wizards, including perhaps his best season as a pro in 2013/14, when he averaged 14.4 PPG and 6.2 RPG with a .456/.407/.772 shooting line.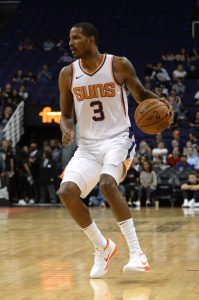 Ariza's numbers so far this season have been somewhat modest — 9.9 PPG, 5.6 RPG, and .379/.360/.837 shooting. Still, the three-and-D wing would be a seamless fit into virtually any playoff contender's lineup, and would provide the Wizards with a reliable defender in the frontcourt – at the expense of some backcourt depth – as they look to get back into the playoff picture in the East. His expiring contract wouldn't create any added cap flexibility for the Wizards next summer, since Rivers ($12.65MM) and Oubre ($3.21MM) are also in the final year of their respective deals.
The deal figures to reduce the likelihood of an Otto Porter trade, since Oubre was viewed as a potential insurance policy for Porter. The Wizards probably couldn't have realistically paid big bucks to Oubre as a restricted free agent in 2019 if the maximum-salary contracts for John Wall, Bradley Beal, and Porter all remained on their books. It seems they'll no longer have to worry about re-signing Oubre.
Oubre instead would be on track to reach restricted free agency next summer for the Grizzlies, who are poised to add the promising 23-year-old small forward to their lineup as a result of this move. Oubre has showed steady improvement over his four NBA seasons, and is posting career-highs in several categories in 2018/19, including PPG (13.0) and FG% (.433).
As for the Suns, their NBA-worst 5-24 start reduced their need for a veteran contributor like Ariza, which made him a popular trade target. Reports earlier in the week suggested that at least eight teams had expressed some interest in the 33-year-old, with the Lakers among them. However, a source tells David Aldridge of The Athletic (Twitter link) that owner Robert Sarver was adamantly opposed to sending Ariza to the Lakers, prompting the Suns to pivot to other options.
Phoenix had reportedly been seeking a play-making guard in return for Ariza, and would receive a couple of players in this deal who could fit that bill. While Rivers and Brooks aren't traditional point guards, they're both capable of assuming some ball-handling duties for the Suns. Selden, meanwhile, is a swingman who figures to slot in at the two or three in Phoenix.
The Suns currently have 14 players on their roster, so they'd need to waive someone to complete the deal. Eric Moreland, who signed a non-guaranteed contract earlier this week, appears likely to be the odd man out.
Photos courtesy of USA Today Sports Images.