DECEMBER 21: The Wizards have officially signed Baker and waived White, the team announced today in a press release.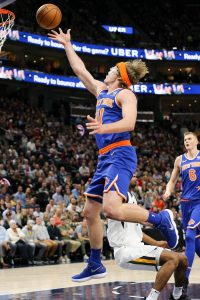 DECEMBER 19: The Wizards have agreed to sign Ron Baker to a new contract, reports Adrian Wojnarowski of ESPN. In a related, albeit unnecessary move, Wojnarowski adds that Washington will waive forward Okaro White. Marc Berman of the New York Post adds that the Nuggets also had interest in Baker before he agreed to terms with the Wizards.
As it currently stands, the Wizards only have 14 players on their roster with standard NBA contracts, so they could have kept White and signed Baker. However, as we've noted on several previous occasions, Washington is extremely cognizant of their looming luxury tax bill, so it's not surprising that they will waive White, the only player on the roster with a non-guaranteed contract, and keep their roster at 14.
Assuming that White is waived/Baker signs for the veteran's minimum tomorrow (all that Washington can offer), and that White is not picked up off waivers, the Wizards will incur a cap hit of just over $957K for Baker and just under $248K for White, totaling approximately $1.2MM. The cap hit for White, had he remained on the roster past January 10, was for $1.19MM, so the ultimate tax difference is negligible.
Accordingly, the move likely comes down to roster fit and team need, and as Keith Smith of Yahoo Sports notes, the Wizards really need a guard more than a forward/big man right now, as further indicated by yesterday's signing of point guard Chasson Randle and the surprisingly positive play from Sam Dekker.
Baker, 25, was recently waived by the Knicks to make room for the signing of former two-way standout Allonzo Trier. In his three NBA seasons with New York, Baker averaged only 3.3 points and 1.8 assists per game, but had become a fan favorite with his work ethic and hard-nosed play.
Meanwhile, White, 26, signed with the Wizards about a month into the 2018/19 season after spending the last couple of seasons in Miami. For his career, he's averaged 2.7 points and 2.2 rebounds per contest.
Photo courtesy of USA Today Sports Images.