10:43pm: The trade between the Bulls and Grizzlies is now official, with both teams announcing the agreement in press releases. As expected, Chicago waived Payne to reduce its roster count to 15 players.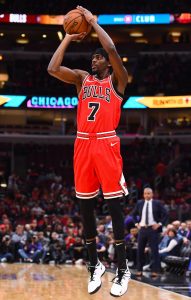 6:43pm: The Bulls are trading Justin Holiday to the Grizzlies in exchange for Wayne Selden, MarShon Brooks and two second-round picks, ESPN's Adrian Wojnarowski reports. Memphis will send its own 2019 and 2020 second-round selections.
Chicago is likely to waive guard Cameron Payne following the trade, Wojnarowski reports.
The trade comes less than 24 hours after the Grizzlies held a postgame meeting that lasted roughly 30 minutes, a conversation which also reportedly included a physical altercation between veterans Omri Casspi and Garrett Temple. Memphis holds just a 18-19 record and is 6-14 since November 22, struggling to gain a strong rhythm on both ends of the floor.
Holiday, 29, has averaged 11.6 points, 4.4 rebounds and 2.2 assists in 38 starts with the Bulls this season. He'll provide the Grizzlies with backcourt depth as they seek to turnaround an underwhelming last month of action, capable of playing both shooting guard and small forward.
Brooks, 30, earned a spot on the Grizzlies' roster this season after averaging 20.1 PPG in seven games down the stretch in 2017/18. However, he didn't play a major role in Memphis in 2018/19, posting 6.6 PPG in 13.3 MPG (29 games). The Bulls are expected to work with his agent and find a new destination for him after the trade, tweets Shams Charania of The Athletic.
Selden, an intriguing third-year player who has also seen his production slip a little in a part-time role for the Grizzlies this season, will report to Chicago as a young asset off the bench.
Interestingly, the package of Brooks, Selden, and a pair of second-round picks is exactly what the Grizzlies believed they were giving up for Kelly Oubre in a failed three-team trade with the Suns and Wizards last month. That deal fell apart because the Suns were under the impression they was getting Dillon Brooks rather than MarShon.
The Bulls received interest from multiple teams on Holiday, according to Charania (Twitter link), but ultimately settled on this trade with the Grizzlies. Chicago has the third-worst record in the Eastern Conference at 10-28 and has lost six of its past 10 games.
Photo courtesy of USA Today Sports Images.