The Knicks stunned the NBA universe today by trading Kristaps Porzingis to the Mavericks. New York is receiving a package "headlined" by Dennis Smith Jr. in exchange for the young big man. As part of the deal, the franchise will get out the contracts of Tim Hardaway Jr. (two years and approximately $39MM left on his deal after this season) and Courtney Lee (one year at $12.7MM), and will receive two future first-round picks.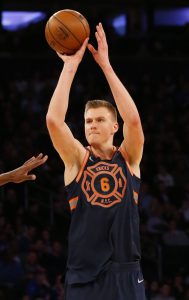 DeAndre Jordan and Wesley Matthews will head to New York and Trey Burke will go to Dallas. From a fantasy perspective, Smith has to be considered the biggest winner. He should take over the reins of the Knicks' murky point guard situation so New York can evaluate him either as part of the long-term future of the franchise or as an asset in a trade this summer.
Emmanuel Mudiay is nursing a shoulder injury and when he returns to work, he'll at best co-pilot the backcourt with DSJ. At worst, he'll come off the bench and if the Knicks continue to tank run out lineups without any point guards, as they did on Wednesday, Mudiay's stock will come crashing down.
The same can be said about Frank Ntilikina, though unlike Mudiay, who has been consistent for the Knicks and reliable from a fantasy standpoint, the French point guard shouldn't be counted on to be a rosterable player.
What kind of roles will Matthews and Jordan have? Assuming the pair don Knicks' uniforms, as opposed to agreeing to buyouts, their minutes won't be as consistent as they were in Dallas. This could be a scenario where the first time either of them has an injury, the Knicks shut them down for the year. Both players have enough fantasy value to remain on rosters in season-long leagues given each players chances of agreeing to a buyout. If Jordan and Matthews stay put, I'd keep a close eye on the waiver wire to prepare for the day the Knicks tell the vets to wear their suits to work and their respective fantasy basketball values change drastically.
While the additions of Hardaway and Lee for the Mavs appear to be a result of salary dumps, Doncic may be shifted into the traditional point guard slot more often as a result. The team could still move either shooting guard to another team before the deadline (neither player's salary could be aggregated in a potential deal). Assuming both players stay put, Doncic, who spent just 12% of his time this season at the traditional one spot, per Basketball-Reference, should see much more time at the point.
Burke saw 32 minutes in his last game as Knick, which happened to be against the Mavericks at The Garden. The former Michigan product became New York's default starting point guard because of injuries to Emmanuel Mudiay and Frank Ntilikina and should see action in the Mavs' backcourt because of their injuries and dearth of quality options.
Jalen Brunson has stepped up since DSJ was originally sidelined because of his injury/unhappiness, though the rookie point guard is best suited for a role off the bench. Brunson and Luka Doncic have seen 68 minutes together over the 10 games since the Lakers contest (the last game before DSJ left the team). The duo recorded a -22.6 net rating, which is second-to-last on the Mavs among the 35 different two-man lineups that recorded at least 60 minutes over that stretch. Burke, who will be a free agent at the end of the season, should get a chance to prove he belongs with the starters, especially if Dallas chooses to go with Doncic and Hardaway as the starting two and three.
Lastly, Kristaps Porzingis was always an iffy prospect to count on for fantasy purposes this season, as he was recovering from a torn ACL. There are rumors he'll sign his qualifying offer with Dallas, which can be seen as him not being sold on his new settings. If you believe he'll go through with that plan and play next season on a one-year deal, his incentive to find the court this season disintegrates. Instead of showing he's healthy this season with a payday coming in restricted free agency this summer, he'll angle for a new contract in 2020 with no restrictions on his choice of suitors after potentially showcasing good health during the 2019/20 campaign.
Stashing Porzingis on your bench in season-leagues is a risky proposition. Less so if your league has an IR slot, though either way, it's wise to leave him on waivers until there's definitive word of him making his Mavericks' debut.
Fantasy questions? Take to the comment section below or tweet me at @CW_Crouse.
Missed an earlier edition of Fantasy Hoops? Check out the entire series here.
Photo courtesy of USA Today Sports Images.