The Nuggets remain atop the Western Conference standings despite a bevy of injuries and constant shuffling of their lineup. This week, Denver provides a little more fantasy value to players in season-long leagues, as this squad is the only team to have five games scheduled this week.
During the Nuggets' first game of the week against the Rockets on Monday, coach Mike Malone started a lineup of Jamal Murray, Gary Harris, Torrey Craig, Paul Millsap, and Nikola Jokic. The team brought Harris (hip injury) and Millsap (toe) along slowly, but their insertion into the starting lineup indicates the club plans to give both players their original roles back despite several players stepping up in their absence.
Harris left the game after 27 minutes of action with a hamstring injury and it would be surprising if he plays on the second night of a back-to-back tonight.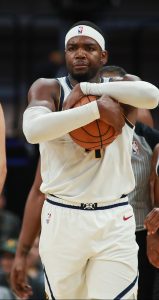 Millsap, who hasn't quite been his diverse fantasy-self lately, admitted over the weekend that he's still recovering from the toe injury which sidelined him for eight games.
"It's still broke, but it doesn't really bother me at all," Millsap said (via Mike Singer of The Denver Post). "Tape it up, and I just get out there and play."
Mason Plumlee performed well during the 11 starts he made over the last month, accumulating 8.4 points, 7.7 rebounds and 3.0 assists per game while shooting 57.1% from the field. He also averaged a block and steal per contest. He's probably worth rostering this week with the extra games, though his long-term value is tied to Millsap. I'd bet on Millsap over Plumlee for the season if both are able to stay on the court.
Jokic is obviously the top fantasy contributor on the team. He ranks seventh overall on ESPN's Player Rater over the last 30 days with Anthony Davis and Karl-Anthony Towns as the only two center-eligible players ahead of him. Earlier in the season, Joel Embiid ranked above Jokic in terms of long-term season value but that's no longer the case with Jimmy Butler joining him in Philadelphia.
While Will Barton is getting closer to a return, we won't see him on the court for a few weeks, as Malone recently announced. Barton is worth a stash and if someone else already has him, he's a good trade target provided you're in good position to make the playoffs.
Monte Morris and Malik Beasley are fine streaming options this week due to volume and Barton's delayed return. Ditto with Craig, though none of the three should be considered a must-own for the season. If I had to pick one, it would be Beasley.
Murray, Jokic, Barton (even with the injury), Millsap and Harris are all players that should be rostered in 100% of leagues. There's plenty of fantasy basketball value in Denver despite the ever-evolving circumstances.
Fantasy questions? Take to the comment section below or tweet me at @CW_Crouse.
Missed an earlier edition of Fantasy Hoops? Check out the entire series here.
Photo courtesy of USA Today Sports Images.