Every week, Hoops Rumors takes a closer look at players who will be free agents or could become free agents next offseason. We examine if their stock is rising or falling due to performance and other factors. This week, we turn our attention to the Northwest Division:
Raul Neto, Jazz, 26, PG (Down) – Signed to a two-year, $4.4MM deal in 2018
Neto's $2.15MM salary for next season becomes guaranteed if he's still on the roster after July 6. Even though it's not much money, Neto has given the Jazz little reason to keep him around. He's not in the rotation with Dante Exum backing up Ricky Rubio. Except for a blowout win over the Knicks in which he played 20 minutes, Neto has either been benched or seen fewer than four minutes over the past 10 games. With Rubio headed to unrestricted free agency, it's conceivable Utah could exercise that option as insurance. The Brazilian native is more likely to continue his career elsewhere, probably overseas.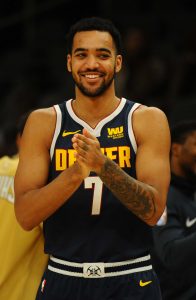 Trey Lyles, Nuggets, 23, PF (Down) – Signed to a four-year, $10.4MM deal in 2015
Lyles has received rotation minutes but his offensive numbers have declined. He's shooting just 41.1% from the field and 24.1% beyond the arc, compared to a 49.1/38.1 slash line last season. He was mired in a terrible slump last month, making just 32.3% (18.6% from distance) of his field goal attempts. Lyles will be a restricted free agent if the Nuggets extend a $4.63MM qualifying option. That may depend on some other factors. They hold a $30MM team option on Paul Millsap's contract. It's also predicated on whether they believe Michael Porter Jr. will contribute significantly next season.
Timothe Luwawu-Cabarrot, Thunder, 23, SG (Down) – Signed to a three-year, $4.26MM deal in 2016
Luwawu-Cabarrot, a 2016 first-round pick by the Sixers in 2016, got some opportunities in his first two seasons with Philadelphia. His court time has diminished considerably in Oklahoma City. After playing in 69 games (19 starts) in his rookie year and 52 last season, Luwawu-Cabarrot has languished at the end of OKC's bench despite Andre Roberson's injury issues. He's played just 12 minutes since November 28. The Thunder didn't pick up Luwawu-Cabarrot's option during the offseason, so he'll be unrestricted in July. It will be interesting to see if any team believes he has untapped potential or whether he'll have to seek overseas opportunities.
Taj Gibson, Timberwolves, 33, PF (Up) — Signed to a two-year, $28MM deal in 2017
Gibson has become a more efficient offensive player in recent years while providing his usual toughness in the paint as well as rebounding. Gibson remains one of the top offensive rebounders in the league (2.7 per game) and has kept a positive attitude despite the addition of Dario Saric, which has cut into his minutes. If Tom Thibodeau remains in charge, the Timberwolves will likely try to re-sign him. Otherwise, Gibson will find work as a 25-30 minute option at power forward for a suitor looking for an upgrade at that position.
Nik Stauskas, Trail Blazers, 25, SG (Down)– Signed to a one-year, $1.6MM deal in 2018
Stauskas is playing for his fourth organization in five seasons. He will be on the move again if his shooting doesn't perk up. After a strong start, Stauskas has gone into an offensive funk. He made just 24.3% of his 3-point attempts in December and went scoreless in a nine-minute stint against Sacramento in his first 2019 appearance. Stauskas reached double figures in five of his first eight games with the franchise but has hit that mark just twice since that point. With first-rounder Anfernee Simons showing no signs of taking Stauskas' rotation spot, the Blazers may try to acquire a wing player before the trade deadline.
Photo courtesy of USA Today Sports Images.