Every week, Hoops Rumors takes a closer look at players who will be free agents or could become free agents next offseason. We examine if their stock is rising or falling due to performance and other factors. This week, we turn our attention to the Southwest Division:
DeAndre Jordan, Mavericks, 30, C (Up) – Signed to a one-year, $24.1MM deal in 2018
Jordan has pretty much done his usual thing in his first season with Dallas, ranking second in the league in rebounding and anchoring the defense. One troubling development is his penchant for turnovers — he's averaging a career-worst 2.4 per game. The one other surprising development is a plus — the career 45.9% free throw shooter has drained 70.3% of his attempts. The always durable Jordan has also answered the bell every game. Early concerns about about "selfish" play have somewhat dissipated. Dallas may not re-sign him but someone will give him another big contract this summer.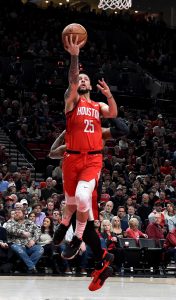 Austin Rivers, Rockets, 26, SG (Up) – Signed to a one-year, $1.15MM deal in 2018
The above salary number doesn't reflect what Rivers is actually making this season, as the Suns bought out his contract after he was traded from the Wizards. He had a $12.6MM salary in the final year of a four-season contract and only gave back $650K. The decision to hook on with the Rockets after he cleared waivers has been good for both parties. With Chris Paul sidelined, Rivers has averaged 12.3 PPG and 3.1 APG in 38.5 MPG in his first eight outings with a championship contender. Still in his prime, Rivers should be able to land a multi-year deal this summer.
Ivan Rabb, Grizzlies, 21, PF (Down) – Signed to a two-year, $2.3MM deal in 2017
An early second-rounder in 2017, Rabb has been a force in a handful of G League games, averaging 23.4 PPG and 10.2 RPG. That hasn't translated into NBA playing time. He hasn't played meaningful minutes in 14 games with the Grizzlies. Interior defensive issues and the lack of 3-point shot are the main reason why the athletic big man hasn't carved out a role. Unless they're convinced he can improve those areas, the Grizzlies will likely cut ties with him after the season.
Darius Miller, Pelicans, 28, SF (Down) — Signed to a two-year, $4.3MM deal in 2017
Miller receives lots of playing time but his offensive contributions boil down to an occasional 3-point attempt. To be fair, Miller is the No. 5 option when he's on the floor and he's an above-average long-range shooter (38.7 percent). His defensive metrics are subpar, which partially explains his paltry 8.42 PER, so the 3-and-D tag doesn't necessarily fit. Miller's 3-point shooting could be enough to land him a veteran's minimum deal or something slightly higher next summer but there's no big payday ahead.
Quincy Pondexter, Spurs, 30, SF (Down)– Signed to a one-year, $2.16MM deal in 2018
Pondexter remained on the roster past January 10th, fully guaranteeing his salary for this season. Pondexter, whose career has been sidetracked by knee injuries, has been praised as a positive locker room influence but he hasn't contributed much on the court. He's appeared in 31 games but averaged just 5.9 MPG with a majority of his playing time coming in blowouts. Pondexter will likely struggle to find another veteran's minimum deal in the summer.
Photo courtesy of USA Today Sports Images.