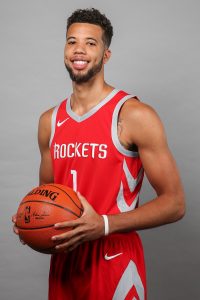 4:07pm: The Rockets have officially announced their deal sending Carter-Williams to Chicago (Twitter link). The Bulls, who already waived Brooks earlier today, per RealGM's transactions log, released Carter-Williams as well, as they confirmed (via Twitter).
10:01am: The Rockets have finalized a deal to send Michael Carter-Williams and cash to the Bulls, tweets ESPN's Adrian Wojnarowski. In return, Houston will receive a heavily protected second-round pick that is unlikely to ever convey, adds Jonathan Feigen of The Houston Chronicle (Twitter link).
The Bulls will waive Carter-Williams, who has a non-guaranteed contract, before the league deadline of 5:00 pm Eastern, Wojnarowski adds (Twitter link). All contracts become fully guaranteed for the rest of the season on Thursday, but players have to be released by the close of business today to avoid the guarantee so they have time to clear waivers.
The Bulls have a full 15-man roster, so the team will waive MarShon Brooks before the deal can be completed, according to Keith Smith of Yahoo Sports (Twitter link). Brooks was acquired Thursday in a trade with the Grizzlies and hasn't played yet for Chicago. Smith adds that the draft choice the Rockets will receive is top-55 protected. The Bulls' second-rounder in 2019 belongs to the Sixers, so Smith believes the pick in the deal will be for 2020 (Twitter link).
The trade enables the Rockets to cut their projected luxury tax payment from $16.3MM to $13.7MM, tweets ESPN's Bobby Marks. It also gives Houston a $1.2MM trade exception. The Rockets open a roster spot that may eventually go to Danuel House, who has won a place in the starting lineup and is approaching the 45-day NBA limit on his two-way contract.
The Bulls will take a $1.2MM cap hit, but will only have to pay Carter-Williams $366K, Marks adds (Twitter link). The cash from the Rockets is expected to cover the salary for him and Brooks. Chicago will also have an open roster spot by the end of the day, points out K.C. Johnson of The Chicago Tribune (Twitter link).
Carter-Williams was named Rookie of the Year with the Sixers in 2014, but has turned into an NBA journeyman. He spent time with the Bucks, Bulls and Hornets before signing with Houston in July. He appeared in 16 games for the Rockets, posting a 4.3/0.8/1.3 line in about nine minutes per night.
Photo courtesy of USA Today Sports Images.