Update: This trade agreement has been rolled into a second deal between the Bucks and Pelicans to make it a three-team trade. You can read the full story here.
The Bucks and Pistons are in the process of finalizing a trade that will send forward Stanley Johnson to Milwaukee and big man Thon Maker to Detroit, a league source tell ESPN's Adrian Wojnarowski (Twitter link). According to Wojnarowski (via Twitter), the deal has been agreed to in principle.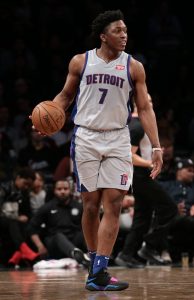 The move will see two Central Division teams swap a pair of former lottery picks that had fallen out of their clubs' long-term plans. It's a straight-up, one-for-one trade with no additional players or draft assets, tweets James Edwards III of The Athletic.
Johnson, the eighth overall pick in the 2015 draft, seemed set to assume a larger role for the Pistons in 2018/19 after starting 50 games last season. However, the 22-year-old has taken a step back, averaging 20.0 minutes per game after playing 27.4 MPG in 2017/18. His shooting numbers have also failed to improve over the course of his career. His .381 FG% and .282 3PT% this season are about in line with his career rates.
Because he's in his fourth NBA season, Johnson will be eligible for restricted free agency this summer, but he was unlikely to receive a qualifying offer from the Pistons, as Vince Ellis of The Detroit Free Press notes (via Twitter). The Bucks will get the opportunity to audition him as a three-and-D wing down the stretch in 2018/19 before deciding this summer whether they want to try to keep him around for a little longer.
As for Maker, the 10th overall pick from 2016's draft has also seen his role reduced this season. The 7'1″ center, who will turn 22 later this month, appeared in 35 games for Milwaukee, averaging 4.7 PPG and 2.7 RPG in just 11.7 minutes per game. Given Maker's limited playing time, his agent asked the Bucks to trade him to a team that would give him a greater opportunity.
Maker will get that opportunity in Detroit, where he'll reunite with former Bucks assistant Sean Sweeney, ESPN's Tim Bontemps observes (via Twitter). The Pistons aren't exactly stacked with a deep and talented frontcourt behind Andre Drummond and Blake Griffin, so Maker should get the chance to battle the likes of Zaza Pachulia and Jon Leuer for minutes in Dwane Casey's rotation. He also remains under contract for one more year before reaching restricted free agency in 2020.
Maker is earning a salary of about $2.8MM in 2018/19, while Johnson's cap hit is $3.94MM. Trade rules allow for that modest difference in salaries, which will benefit the Pistons — as a result of this deal and their trade sending Reggie Bullock to the Lakers, they've created an extra $2MM+ in breathing room below the luxury tax line, ESPN's Bobby Marks notes.
The Pistons will also generate a small trade exception worth the difference in the two players' salaries ($1,140,682).
Photo courtesy of USA Today Sports Images.