7:36pm: The three-team trade involving the Pelicans, Bucks, and Pistons is now official, according to press releases issued by New Orleans and Milwaukee. Milwaukee gets Mirotic, Detroit gets Maker, and New Orleans acquires two players and four draft picks, as detailed below.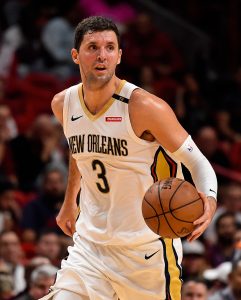 11:57am: The Bucks are adding another shooter to their frontcourt, having reached an agreement to acquire Nikola Mirotic from the Pelicans, according to ESPN's Adrian Wojnarowski and Zach Lowe (Twitter link).
New Orleans will receive Jason Smith's expiring contract along with Stanley Johnson in exchange for Mirotic, Woj reports (via Twitter). According to Marc Stein of The New York Times (via Twitter), the Pelicans will also receive four second-round picks as part of the deal.
A source tells Jake Fischer of SI.com (Twitter link) that two of those selections will be the Wizards' 2020 and 2021 second-rounders, while Tim Bontemps of ESPN reports (via Twitter) that Denver's 2019 second-rounder and the Bucks' 2020 second-rounder are also in the package.
Milwaukee just reached an agreement on Wednesday to acquire Johnson from the Pistons in exchange for Thon Maker, but that deal has yet to be completed. the Bucks wouldn't be permitted to aggregate Johnson's salary with another player's contract for two months after acquiring him, so it looks the two deals will be turned into one three-team trade, which helps explain why Detroit and Milwaukee haven't finalized their agreement yet.
For the Bucks, this deal represents an impressive response to the Sixers' acquisition of Tobias Harris on Wednesday. While Mirotic isn't as dynamic a player as Harris, he should fit in very nicely in Mike Budenholzer's system, which already features a pair of sharpshooting big men in Brook Lopez and Ersan Ilyasova.
Mirotic, who will turn 28 next Monday, has been limited by injuries so far this season, but has been his usual productive self when he's on the court, averaging 16.7 PPG and 8.3 RPG with a .447/.368/.842 shooting line in 28.9 MPG.
Mirotic is on an expiring contract, so the Bucks can add him to a list of free-agents-to-be that also includes Khris Middleton, Eric Bledsoe, Brook Lopez, and Malcolm Brogdon (restricted). Milwaukee will presumably attempt to retain as many of those players as possible in the offseason.
As for the Pelicans, their return for Mirotic won't match the first-round pick they gave up for him a year ago, but they won't take on any future salary, and one or two of those second-round picks could fall in the 30s.
They'll also get a chance to take a look at Johnson, a former lottery pick who will be up for restricted free agency this summer. While the young wing never really blossomed into a reliable rotation player in Detroit, he still has some upside as a versatile defender, though he'd have to improve his shooting numbers to improve his value.
The Pelicans will have to open up a roster spot with another trade or cut in order to finalize the deal. The Bucks, on the other hand, will create an opening on their roster, though they're now less than $1MM away from the luxury tax line, ESPN's Bobby Marks notes (via Twitter).
Photo courtesy of USA Today Sports Images.