Every week, Hoops Rumors takes a closer look at players who will be free agents or could become free agents next offseason. We examine if their stock is rising or falling due to performance and other factors. This week, we turn our attention to the Southeast Division:
Dewayne Dedmon, Hawks, 29, C (Up) – Signed to a two-year, $14.1MM deal in 2017
Dedmon seems like a prime candidate to hit the buyout market, but incentive clauses in his contract may motivate him to stick out the season in Atlanta. As long as Dedmon stays in the rotation, spending the season with the lottery-bound Hawks shouldn't hurt his value when he becomes an unrestricted free agent this summer. Dedmon has evolved into a 'stretch five' in the sixth year of his career. Lately, he's taken a majority of his shots from beyond the arc and he's getting pretty good at it. He's shooting 46.4% from long range this month and 38.6% for the season, which will serve as a nice selling point.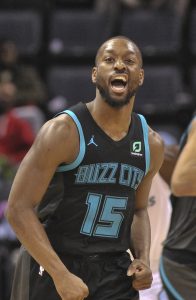 Kemba Walker, Hornets, 28, PG (Up) – Signed to a four-year, $48MM deal in 2015
Walker will be the second-best point guard on the market after Kyrie Irving but he'll hardly be a consolation prize. Walker has been terrific throughout the season and he's off to a blazing start this month. In his last four games, he's averaging 34.0 points, 8.0 assists and 5.8 rebounds. Walker is averaging a career-high 25.1 PPG this season and has missed just six games since the 2015/16 campaign. Walker has been working on a team-friendly contract paying him $12MM annually. He'll get a gargantuan raise whether he decides to stick with the Hornets or join one of the many teams with significant cap space seeking a top-flight free agent.
Rodney McGruder, Heat, 27, SG (Down) – Signed to a three-year, $3.4MM deal in 2016
McGruder lost his rotation spot, then got it back when Wayne Ellington and Tyler Johnson were traded last week. In the last two games, McGruder has scored a total of four points on 2-for-10 shooting. He's lacking in confidence, as evidenced by the fact he's missed his last 17 3-point attempts. Coming off an injury-marred 2017/18 campaign, McGruder got off to a strong start and contributed as a play-maker as well as a scorer. Miami can make him a restricted free agent by extending a modest $3MM qualifying offer this summer, but even that's no longer a sure thing.
Jerian Grant, Magic, 26, PG (Down) — Signed to a four-year, $7.57MM deal in 2015
Grant had a golden opportunity to enhance his value after getting traded to Orlando in July via a three-team swap. He entered one of the sketchiest point guard situations in the league but after failing to beat out journeyman D.J. Augustin for the starting job, he has also fallen behind Isaiah Briscoe on the depth chart. Grant has played a total of six garbage-time minutes over the last six games. It's hard to imagine Orlando extending a $3.76MM qualifying offer to make Grant a restricted free agent, so he'll be scrounging for a fresh start elsewhere.
Tomas Satoransky, Wizards, 27, PG (Up)– Signed to a three-year, $9MM deal in 2016
John Wall's pain has led to Satorsansky's gain and he could cash in before he becomes a restricted free agent. Reports surfaced early last month that the team has engaged with Satoransky's representatives regarding an extension. With Wall likely out all of next year after tearing his Achilles, Satoransky becomes even more valuable to the franchise. He could sign for as much as $47.5MM over a four-year period on an extension and he hasn't hurt his cause since taking over as the primary point man. He's racked up eight or more assists in nine games since January 9th.
Photo courtesy of USA Today Sports Images.