Every week, Hoops Rumors takes a closer look at players who will be free agents or could become free agents next offseason. We examine if their stock is rising or falling due to performance and other factors. This week, we turn our attention to the Southwest Division:
Maxi Kleber, 27, Mavericks, PF (Up) – Signed to a two-year, $2.19MM deal in 2017
Kleber has received increased playing time since the blockbuster Kristaps Porzingis deal with the Knicks. He's averaging 10.2 PPG and 4.8 RPG in 25.7 MPG as a starter this month while making 36% of his 3-point attempts. Kleber would be a restricted free agent if Dallas extends a $1.82MM qualifying offer. With loads of cap space to spare, the Mavs have plenty of incentive to make that modest offer for a rotation player, even though he'd probably move back to the bench next season when Porzingis is ready to play again.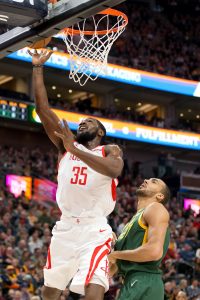 Kenneth Faried, Rockets, 29, PF (Up) – Signed to a one-year, $917K deal in 2019
Clint Capela's return from a thumb injury this week will reduce the Manimal's minutes. He'll still play a valuable role for Houston, where he has revived his career after getting bought out by Brooklyn. After appearing in just 12 games with the Nets, Faried has averaged 15.7 PPG, 9.9 RPG and 1.0 BPG in 13 outings with the Rockets. It seems Faried has been in the league a long time, but he's still just 29. In an era of stretch fours and fives, it's questionable whether anyone views Faried as a starter going forward. He should still get a multi-year deal somewhere as a second-unit difference maker.
Justin Holiday, Grizzlies, 29, SF (Down) – Signed to a two-year, $9MM deal in 2017
Holiday was acquired from the Bulls when the Grizzlies still harbored hopes of making the playoffs. He didn't move the needle at all before Memphis went into sell mode prior to the trade deadline. He's averaged 8.2 PPG on 34.8% shooting (29.8% on 3-point tries) in 28.5 MPG with the Grizzlies. Holiday has posted below average PERs throughout his career, which doesn't help his cause in the analytics era. Holiday has enough of a resume to land on someone's bench next season but his days as a starter are likely over after this season.
Elfrid Payton, Pelicans, 25, PG (Down) — Signed to a one-year, $3MM deal in 2018
Payton inked a short-term, 'show me' contract after the former lottery pick flopped in Orlando and Phoenix. He was given the opportunity to replace free agent Rajon Rondo in the lineup but has spent a majority of the season in the trainer's room. He's appeared in just 19 games, with a right ankle sprain sidelining him for the last nine games heading into Friday's action. The Pelicans lost six of the last eight games that he played. Payton will probably have to settle for another one-year deal this summer, this time in a backup role.
Dante Cunningham, Spurs, 31, SF (Down)– Signed to a one-year, $2.49MM deal in 2018
Cunningham has seen spot duty with the Spurs, averaging 15.9 MPG in 53 appearances. He's managed to stay in the league for a decade, though he's usually the No. 5 option at the offensive end. He accepts his limited role and provides some defense, so it's possible he'll squeeze out another veteran's minimum deal with San Antonio or another playoff contender. But being on the wrong side of 30 means he'll probably have to wait until late in the free agency period for an offer.
Photo courtesy of USA Today Sports Images.