Wayne Ellington, who is currently on waivers and will become a free agent this weekend, is closing in on a contract agreement with the Pistons, reports ESPN's Adrian Wojnarowski (via Twitter).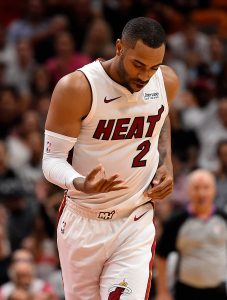 Ellington, who spent most of the season with the Heat, was sent from Miami to Phoenix in a trade this week. The veteran sharpshooter has a contract that gave him the right to veto a potential deal, but he signed off on the trade based on the knowledge that the Suns would release him, giving him the chance to join a contender.
While the 24-29 Pistons certainly aren't the NBA's most obvious "contender," they're currently just 1.5 games out of the playoff picture in the East. The Hornets and Heat hold the seventh and eighth seeds with 26-28 and 25-27 records, respectively, so Ellington could get the opportunity to help knock his old team out of the postseason.
Ellington, 31, has a career .380 3PT% and has made at least 2.3 threes per game in each of the last three seasons with the Heat, but saw his role cut back significantly in 2018/19. He struggled to crack a crowded rotation in Miami, appearing in just 25 games this season and suggesting that he wouldn't mind a change of scenery if it gave him the opportunity to play more.
He'll get that chance in Detroit, which may have been one of the reasons why he chose the Pistons over other suitors. According to Vince Ellis of The Detroit Free Press (via Twitter), the Pistons beat out "heavy competition" for Ellington. After trading away Reggie Bullock and Stanley Johnson in a pair of deals this week, the club should have a clear role available on the wing for the former UNC standout.
The Pistons currently have a full 15-man roster, so they'll have to waive someone to open up a spot for Ellington.
Photo courtesy of USA Today Sports Images.