Every week, Hoops Rumors takes a closer look at players who will be free agents or could become free agents next offseason. We examine if their stock is rising or falling due to performance and other factors. This week, we turn our attention to the Central Division:
Wayne Selden, Bulls, 24, SG (Down) – Signed to a two-year, $2.86MM deal in 2017
Selden was part of the Justin Holiday deal with the Grizzlies in January. He could be a restricted free agent if Chicago chooses to extend a $1.93MM qualifying offer. Selden hasn't done anything to convince the front office to retain his rights. He had an 18-point game in a blowout loss to Detroit on Sunday but he's mostly been a non-factor off the bench. He's posted a minus 4.5 Box Plus/Minus Rating, according to Basketball-Reference, which runs parallel to his career rating.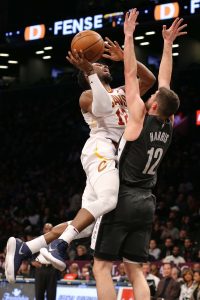 David Nwaba, Cavaliers, 26, SG (Down) – Signed to a one-year, $1.5MM deal in 2018
Injuries and a lack of production have made this a ho-hum season for Nwaba, who is playing for his third team in three years. He's had occasional outbursts, such as a 22-point outing against Brooklyn this month, but has otherwise done little to dent the stat sheet. He can be a restricted free agent if the front office extends a low-cost $1.89MM qualifying offer. The cash-strapped Cavs will probably decline that option unless they see him as a rotation piece going forward.
Jose Calderon, Pistons, 37, PG (Down) – Signed to a one-year, $2.39MM deal in 2018
Calderon has carved out a nice, long NBA career that began in the 2005/06 season with Toronto. He rejoined his former Raptors coach, Dwane Casey, in Detroit as a third-string point guard after some good moments in Cleveland last season. It hasn't gone well. Father Time has clearly caught up to Calderon, who was exposed when primary backup Ish Smith was sidelined by a adductor injury. This is likely Calderon's last hurrah, though he could remain in the league as a coach if he so chooses.
Thaddeus Young, Pacers, 30, PF (Up) — Signed to a four-year, $54MM deal in 2015
A steady, durable big man, Young has been a consistent contributor throughout his career. This year might be best, reinforcing his value in a walk year. His Box Plus/Minus rating on Basketball-Reference is a career-best 3.1 and coach Nate McMillan has flowed with praise over Young's play and leadership. Young doesn't post big numbers, but he fills the stat sheet and provides intangibles that endears him to teammates and coaches. He should receive another pricey, multiyear offer this summer.
Malcolm Brogdon, Bucks, SG (Up) – Signed to a three-year, $3.78MM deal in 2016
An unlikely Rookie of the Year recipient after getting drafted in the second round, Brogdon has taken his play up a level or two after an injury-marred sophomore campaign. Starting for the current top seed in the East, Brogdon is averaging 15.6 PPG on 50.5% overall shooting. He's a 42.6% shooter from distance and is virtually automatic at the free throw line (92.8%). He also rebounds well for his position and facilitates the offense (3.2 APG). Brogdon will be a restricted free agent and the Bucks may have to match a big offer sheet to retain him.
Photo courtesy of USA Today Sports Images.