Every week, Hoops Rumors takes a closer look at players who will be free agents or could become free agents next offseason. We examine if their stock is rising or falling due to performance and other factors. This week, we turn our attention to the Southeast Division:
Justin Anderson, Hawks, 25, SG (Down) – Signed to a four-year, $7MM deal in 2015
The Hawks can make Anderson a restricted free agent if they extend a $3.62MM qualifying offer. Anderson hasn't given them much incentive to do so since they acquired him in an offseason trade with Philadelphia. Anderson is getting fewer minutes off the bench than ageless wonder Vince Carter, with under six minutes per game in seven March appearances. A recent report indicated that the Hawks would be aggressive in free agency. Renouncing Anderson's rights would give them more elbow room to pursue top-tier players.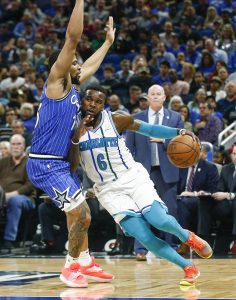 Shelvin Mack, Hornets, 28, PG (Down) – Signed to a one-year, $2MM deal in 2018
It's rare when NBA players are claimed off waivers. Mack proved to be an exception after the Grizzlies traded him to the Hawks last month, who weren't interested in retaining his services. The Hornets were looking for some insurance behind backup Tony Parker, but Mack has been mostly a spectator. He's appeared in just three games since the waiver claim after receiving steady minutes on Memphis' second unit. Mack will be shopping around for a one-year minimum deal once again this offseason.
Derrick Jones Jr., Heat,, 22, SF (Up) – Signed to a two-year, $3.16MM deal in 2018
The Heat have an August 1 deadline to guarantee Jones' $1.645MM salary for next season. Considering that Jones is a young rotation player, that would seem to be an easy decision. Jones remains a work in progress offensively but advanced metrics indicate he's making a defensive impact. His Defensive Box Plus/Minus rating, according to Basketball-Reference is a solid 1.4. Jones is shooting 49% from the field, mainly due to the fact that 54% of his attempts have come within three feet of the basket. He's averaging 21.5 MPG in March, a sign of trust from coach Erik Spoelstra.
Nikola Vucevic, Magic, 28, C (Up) — Signed to a four-year, $53MM deal in 2015
There have been conflicting reports whether Dallas will make a big push for Orlando's big man this summer. No doubt, there will be a market for Vucevic's services. He's averaging career highs of 20.6 PPG and 12.2 RPG in his walk year and coach Steve Clifford adds that Vucevic essentially gives the team "two point guards" when he's on the floor. Vucevic isn't considered a defensive stalwart but his Defensive Box rating this season is a career-high 3.7. Vucevic won't get a max-level offer but he'll be making a lot more than $12.75MM next season.
Sam Dekker, Wizards, 24, SF (Down)– Signed to a four-year, $7.9MM deal in 2015
Dekker could be a restricted free agent this summer if the Wizards extend a $3.91MM qualifying offer. That's not going to happen, as Dekker hasn't been any better in Washington than he was in three other NBA stops. The 18th overall pick in the 2015 draft has made 33 appearances with the Wizards since he was acquired from Cleveland in early December. He's averaging 5.9 PPG in 15.4 MPG, but shooting just 29.4% from deep and 51.6% from the foul line. Dekker's expectations should be modest in the open market.
Photo courtesy of USA Today Sports Images.