Last month, we outlined how the Anthony Davis saga in New Orleans could significantly impact what Karl-Anthony Towns next contract looks like.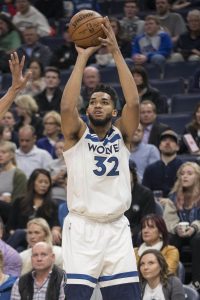 Towns' new extension, signed last fall, will start at 30% of the cap if he earns All-NBA honors in 2019, as opposed to 25% of the cap if he misses out on an All-NBA slot. With Nikola Jokic and Joel Embiid expected to claim two All-NBA center spots, Towns is in position to grab the third, in part due to Davis' trade request — not only will AD's role in the Pelicans' dysfunction be considered, but he's playing limited minutes down the stretch while Towns puts up some of the best numbers of his career.
Assuming Towns does earn an All-NBA nod, it'll be a $30MM+ decision by award voters, bumping the projected value of his five-year deal from about $158MM to nearly $190MM. However, KAT isn't the only player who could have his contract situation significantly impacted by this year's All-NBA selections.
As Brian Windhorst of ESPN.com and Andrew Sharp of SI.com have detailed this week, there's a lot at stake for a handful of players who are candidates for this year's All-NBA teams. Let's break it down, taking a closer look at some players who could become eligible for a super-max contract this year…
The All-NBA locks:
While there's some debate over which six guards will get All-NBA nods, Lillard looks like a slam dunk for a spot on the first or second team — Lillard, Stephen Curry and James Harden appear to be the strongest candidates for the two guard spots on that first team.
Assuming he does, in fact, earn All-NBA honors, Lillard will become eligible for a Designated Veteran Extension. His current contract runs through 2020/21, with no options, so he'd be eligible to tack on four extra years to that deal, starting in 2021/22.
For now, i's impossible to say exactly what the NBA's salary cap will be in 2021/22, but based on projections for '19/20 ($109MM) and '20/21 ($118MM), we can safely assume a max deal for Lillard starting in '21/22 will be worth a lot more than it would be now. Conservatively, estimating a $120MM cap, Lillard's super-max extension would start at $42MM and would be worth $188MM+ over four years.
With Lillard in position to gain eligibility for a super-max extension, the big question in Portland this summer could be whether the Trail Blazers will actually put that offer on the table. There have been no indications that either Lillard or the Blazers wants to end their union, but the club might be wary of offering such a massive deal to a player who will be 31 years old when the four-year deal begins — that decision hasn't worked out well for the Wizards with John Wall.
As for Antetokounmpo, he's on track to become eligible for a Designated Veteran Extension too, and that decision figures to be a much easier one for the Bucks. However, Milwaukee won't be able to actually put that super-max offer on the table until the 2020 offseason, once Giannis has seven years of NBA experience under his belt.
The All-NBA guard contenders:
As noted above, Lillard, Curry, and Harden appear to be locks to earn three of the All-NBA guard spots. Kyrie Irving and Russell Westbrook are probably pretty good bets too. That would leave one spot up for grabs, with the three players listed above among the primary contenders, joined by Ben Simmons, Jrue Holiday, and one or two others.
Walker and Thompson will both be unrestricted free agents this summer, and if they don't earn an All-NBA spot, they'll be eligible to re-sign with their current teams for up to about $189.7MM over five years. An All-NBA nod would increase their potential max salaries to approximately $221.3MM over five years, which could make their free agencies very intriguing.
[RELATED: Projected maximum salaries for 2019/20]
In Walker's case, would the Hornets actually want to go that high for a point guard who will be 29 years old and had never made an All-NBA team before this year? If Charlotte didn't put a super-max offer on the table, would Kemba be offended and explore outside opportunities, even if those rival suitors couldn't offer as much as the Hornets? It would add a fascinating wrinkle to what already should be an interesting free agency.
As for Thompson, previous reports have suggested he's more interested in staying with the Warriors long term than necessarily maxing out his potential earnings, so it seems unlikely he'd push for a super-max deal if he became eligible.
If he were to sign one, Golden State would have two players on Designated Veteran Contracts (Thompson and Curry), and wouldn't be eligible to sign a third super-max contract until one of those deals expires. Fortunately for the Warriors, a max deal for Kevin Durant wouldn't qualify as a third Designated Veteran deal, since Durant has 10+ years of experience, which automatically qualifies him for the 35% max.
If the season ended today though, I expect Walker and Thompson would be shut out of the All-NBA third team in favor of Beal, who has had his best season as a pro, thriving without Wall in the Wizards' lineup. Assuming Beal earns All-NBA honors, he'd be eligible for the same super-max extension as Lillard — a four-year, 35% max deal that starts in 2021/22.
An All-NBA spot for Beal would leave the Wizards facing a very tough decision, as Fred Katz of The Athletic writes. Beal and his reps could rightfully argue that he deserves a super-max deal just as much as Wall. But if Washington puts that offer on the table, it would mean committing a ton of long-term money to a backcourt duo that has yet to lead the franchise to a deep postseason run.
The safe play for the Wizards, with two years still remaining on Beal's contract, would be to either table extension talks for now or to offer a slightly less lucrative long-term deal. But if the club doesn't offer the full max, how would Beal react? As recently as November, he was involved in a heated practice altercation in which he yelled at general manager Ernie Grunfeld. If he feels slighted by a lack of a super-max offer, there's no guarantee that Beal wouldn't start looking for a way out of D.C.
The All-NBA center long shot:
Vucevic has had a terrific year in Orlando and deserves All-NBA consideration, but it's hard to imagine at this point that he'd earn a center spot over Embiid, Jokic, or Towns, let alone Defensive Player of the Year candidate Rudy Gobert.
Perhaps there's a scenario in which he leads the Magic on a long winning streak in the season's final three weeks, posting monster numbers and leading the club to a playoff spot. Even then, an All-NBA spot looks like a long shot — and even if he earned All-NBA honors, making himself super-max eligible, it's very unlikely that Orlando would put that sort of offer on the table. Vucevic isn't even a lock to be part of the club's long-term frontcourt, with Mohamed Bamba, Jonathan Isaac, and Aaron Gordon all in the mix.
Vucevic is worth mentioning due to the great season he's had and the fact that he technically could become super-max eligible, but this situation isn't nearly intriguing as the ones in Portland, Washington, or Charlotte might be.
Photos courtesy of USA Today Sports Images.