MARCH 22: The Suns have made it official, announcing Fredette's new deal today in a press release.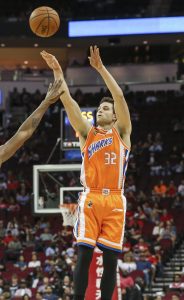 MARCH 21: The Suns have reached an agreement to sign former lottery pick Jimmer Fredette to a rest-of-season contract which will include a team option for 2019/20, reports John Gambadoro of Arizona Sports 98.7. Because Phoenix has an open spot on its 15-man roster, no corresponding move will be required to create an opening.
The move is not yet official, as Fredette still requires clearance after spending the 2018/19 season in the Chinese Basketball Association, tweets Shams Charania of The Athletic. That should happen soon.
Once Fredette officially finalizes his new deal with the Suns, he'll be back in the NBA for the first time since the 2015/16 season, when he appeared in just six games for the Pelicans and Knicks. Since then, the 30-year-old guard has made a name for himself in China, where he has put up huge scoring numbers for the Shanghai Sharks. In 43 games this season, Fredette averaged a league-leading 36.9 PPG, 5.6 RPG, 5.4 APG, and 2.6 SPG.
Although he never developed into a reliable rotation player in 235 games for the Kings, Bulls, Pelicans, and Knicks, the former BYU star has said that he feels as if he'd succeed if given another opportunity in the NBA. Given how often teams are launching three-point shots these days, Fredette's outside touch should be an asset — he made 38.1% of his three-point attempts in his previous five NBA seasons.
"I definitely get that itch when I watch NBA games, I know that I can be out there," Fredette told Bryan Kalbrosky of HoopsHype in November. "They're shooting so many three-pointers and so much of it has to do with space, movement and transition. During half-court sets, they're looking to space and drive and shoot and that plays into my skill set so well. It's absolutely my style. I see their offensive systems and everyone can use another shooter, another scorer."
The Suns will now have a full 15-man roster, with all 15 players on guaranteed contracts. The exact terms of Fredette's deal aren't yet known, but if he signed for the minimum, his non-guaranteed 2019/20 option would be worth just shy of $2MM.
Photo courtesy of USA Today Sports Images.