Projected by oddsmakers to be the worst team in the Western Conference in 2018/19, the Kings surpassed all expectations, emerging as one of the most entertaining young clubs in the league behind breakout seasons from De'Aaron Fox and Buddy Hield. The year wasn't without the usual Sacramento drama, as an end-of-season coaching change proved, but the franchise finally appears to be pointed in the right direction after spending over a decade in the lottery.
Here's where things currently stand for the Kings financially, as we continue our Offseason Salary Cap Digest series for 2019: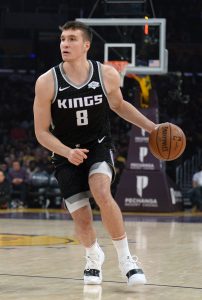 Guaranteed Salary
Bogdan Bogdanovic ($8,529,386)
Marvin Bagley ($8,556,120)
Nemanja Bjelica ($6,825,000)
De'Aaron Fox ($6,392,760)
Buddy Hield ($4,861,208)
Harry Giles ($2,578,800)
Matt Barnes ($2,133,541) — Waived via stretch provision
Caleb Swanigan ($2,033,160)
Total: $41,909,975

Player Options
Team Options
Non-Guaranteed Salary
Restricted Free Agents
Unrestricted Free Agents / Other Cap Holds
Projected Salary Cap: $109,000,000
Projected Tax Line: $132,000,000
Offseason Cap Outlook

Realistic cap room projection: $38.4MM
This projection may not be the most realistic outcome for the Kings, as it hinges on them only retaining their seven players on guaranteed contracts, plus Barnes, renouncing their free agents and waiving all their players on non-guaranteed salaries.
If the Kings were to bring back Ferrell and Mason, their available cap room would dip to $35.4MM. If they were to retain both of those players and also keep Cauley-Stein's cap hold on their books, that number would decline further, to $22.2MM.
On the other hand, if Barnes decides to test the market, the Kings could theoretically get all the way up to $62.6MM in cap space by only keeping their seven players on guaranteed salaries.
Cap Exceptions Available
Room exception: $4,760,000 4
Footnotes
Ferrell's salary becomes fully guaranteed after July 4.
Mason's salary becomes fully guaranteed after October 15.
The salaries for two-way players don't count against a team's cap, but their cap holds do during the offseason.
This is a projected value. If the Kings remain over the cap, they'd instead have access to the full mid-level exception ($9,246,000) and the bi-annual exception ($3,619,000).
Note: Minimum-salary and rookie-scale cap holds are estimates based on salary cap projections and could increase or decrease depending on where the cap lands.
Salary information from Basketball Insiders and RealGM was used in the creation of this post. Photo courtesy of USA Today Sports Images.