While the NBA won't announce this year's award winners until June, we're making our picks for 2019's major awards this week and next week.
The Hoops Rumors writing team has weighed in with our choices below, but we also want to know which players, coaches, and executives you think are most deserving of the hardware this season, so jump into the comment section below to share your thoughts.
We're keeping things going today with the award for Most Improved Player. Here are our selections: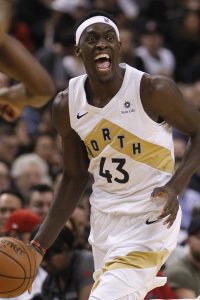 Luke Adams: Pascal Siakam (Raptors)
In a season littered with breakout performances, nearly half of the NBA's rosters feature at least one legit candidate for this award. None has a stronger case than Siakam.
Grouped together with young Raptors role players like Fred VanVleet and OG Anunoby a year ago, Siakam has raised his ceiling significantly since then, improving every aspect of his game, from his ball-handling to his outside shooting to his defensive versatility. The Raptors leaned on Siakam as one of their primary play-makers on offense and asked him to defend point guards, centers, and everything in between on the other end of the floor. He responded admirably to every challenge, emerging as an indispensable part of a 58-win team and as a future All-Star.
Dana Gauruder: Pascal Siakam (Raptors)
Siakam only started five games last season before blossoming into the second-best player on a prime playoff contender in 2018/19, his third NBA campaign. The 25-year-old averaged nearly 10 points more than last season, was one of the Raptors' top rebounders (6.9 RPG), and improved his assist totals as the season went along (4.1 in the month of March). Even if Kawhi Leonard leaves in free agency, Siakam may be primed to step into a starring role.
JD Shaw: Pascal Siakam (Raptors)
This is the easiest award for me to vote on, mostly because Siakam's improvement on both ends was so clear this season that you really don't have to look at the stat sheets. He was tasked with a much larger role under head coach Nick Nurse and accepted the challenge, cementing his role as starting power forward and helping lead the Raptors to the second-best record in the Eastern Conference at 58-24.
If you do check the numbers, you'll see Siakam raised his shooting marks drastically. He shot 55% from the floor, up from 51% last season, and 37% from 3-point range, up from 22%, to go along with an average of 16.9 points per game, good for the second-most on his team.
Arthur Hill: D'Angelo Russell (Nets)
Injury-free for the first time since his rookie season, Russell developed into the leader the Lakers were hoping for when they drafted him second overall in 2015. His stats didn't improve as much as those of other candidates (21.1 PPG, 3.9 RPG and 7.0 APG this season, compared to 15.5/3.9/5.2 last year), but he became the top crunch-time option for a Nets team that reached the playoffs for the first time in four years. Russell was Brooklyn's leader in scoring, 3-pointers, assists, steals, deflections, games played, minutes played and PER, and appears ready to be one of the top point guards in the East for years to come.
Chris Crouse: Pascal Siakam (Raptors)
Russell took a huge step forward this year, while Siakam took a Giannis-from-the-free-throw-line style leap.
Siakam's improvement came in ever-changing circumstances. The Raptors only saw Leonard and Kyle Lowry suit up together in 43 games. Siakam played in 80 contests and was part of 19 different starting lineups for Toronto. His role routinely fluctuated from top defensive stopper to floor-spacing third option to isolation play-maker to in-transition tempo-setter.
Due to injuries, Russell also had to deal with a rotating cast beside him, but he consistently was the No. 1 option. He led the Nets to the playoffs first the first time since Paul Pierce was in Brooklyn, scoring 4.6 more points and dishing out nearly two more assists per game than he did last season without increasing his turnovers. His player efficiency rating skyrocketed from barely above league average to 19.4.
Russell's year-to-year usage in Brooklyn remained steady and he deserves credit for becoming more efficient with his opportunities. Siakam expanded his game and earned additional opportunities, upping his scoring by nearly 10 points per contest with a completely new offensive game. Brooklyn's first-time All-Star appears to want the award more than Siakam, but the Raptors' utility knife has the better case for 2018/19's Most Improved Player.
Who is your pick for Most Improved Player? Share your choices and your thoughts in the comment section below!
Previously:
Still to come:
Rookie of the Year
Defensive Player of the Year
Most Valuable Player
Photo courtesy of USA Today Sports Images.