While the NBA won't announce this year's award winners until June, we're making our picks for 2019's major awards over the next two weeks.
The Hoops Rumors writing team has weighed in with our choices below, but we also want to know which players, coaches, and executives you think are most deserving of the hardware this season, so jump into the comment section below to share your thoughts.
We're keeping things going today with the award for Sixth Man of the Year. Here are our selections: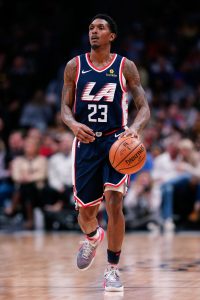 Clark Crum: Lou Williams (Clippers)
Williams has (once again) put together one of the greatest regular season performances of any reserve in NBA history.
If you limit the definition of "reserve" to only those players who started 5 games or less during a season (i.e. true reserves) while playing 20+ MPG, Williams' 2018/19 numbers rank third all-time in PPG (behind Ricky Pierce in 1989-90 and 1990-91) and APG (behind Hall-of-Famer John Stockton in 1986-87 and Jarrett Jack in 2012-13) and ninth all-time in PER. And while his numbers last season were even better, Williams was able to help lead his team to the playoffs this year.
There are certainly other candidates who had fantastic seasons, including – but not limited to – Williams' teammate, Montrezl Harrell, and Pacers' big man Domantas Sabonis, but Williams' impact on the game is still unmatched in today's NBA.
Arthur Hill: Lou Williams (Clippers)
The reigning Sixth Man of the Year is an easy choice to win the award again. He averaged better than 27 points per 36 minutes and provided the Clippers with enough scoring punch to  reach the playoffs after trading away Tobias Harris. Williams fits the instant offense role as well as anyone ever has and may contend for this award every year until he retires.
Luke Adams: Lou Williams (Clippers)
Williams' eligibility for this award, which I expect him to win unanimously, seems almost unfair. But the fact that the Clippers can bring their most talented scorer off the bench is a testament to their depth, which allows Doc Rivers to run out a solid starting five before plugging in Williams and Harrell to pound teams' second units.
Of course, it's not as if Williams was padding his stats against bench players all season — he was a key closer for the Clippers in crunch time, finishing third in the NBA in total fourth quarter points, behind only James Harden and Kemba Walker.
Dana Gauruder: Lou Williams (Clippers)
At the rate he's going, Williams will be averaging 30 points per game when he turns 40. He's getting better as he gets older. Not only did he average 20 PPG, but his assist total was a career best 5.4 APG. He also led the Clippers on some crazy second-half comebacks. His $8MM salary is one of the league's biggest bargains.
JD Shaw: Lou Williams (Clippers)
Several people have privately questioned why the Clippers choose to bring him off the bench, but the one-two punch of Williams and Harrell (another deserving Sixth Man of the Year candidate) has taken teams by surprise all season long. Williams averaged 20 points per game, his second straight season of scoring 20 or more, shooting 42.5% from the floor and 36.1% from 3-point range. It would be the third Sixth Man of the Year award in his 14-year career (2015, 2018).
Who is your pick for Sixth Man of the Year? Share your choices and your thoughts in the comment section below!
Previously:
Still to come:
Most Improved Player
Rookie of the Year
Defensive Player of the Year
Most Valuable Player
Photo courtesy of USA Today Sports Images.