Timberwolves point guard Jeff Teague has elected to pick up his $19MM player option for the 2019/20 season, reports Jon Krawczynski of The Athletic (Twitter link). The decision, which doesn't come as a surprise, puts Teague on track to reach unrestricted free agency in 2020.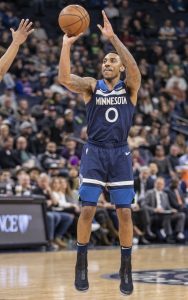 Teague, who will turn 31 in June, battled injuries during the 2018/19 season and was able to play in just 42 games for Minnesota. In those games, he averaged 12.1 PPG, 8.2 APG, and 2.5 RPG in 30.1 minutes per contest. The Timberwolves, who finished the season well below .500, were 23-19 when the veteran guard played.
There's optimism that Teague can get his foot healthy this summer and enjoy a more effective season in 2019/20, tweets Krawczynski.
For now, Teague is the only point guard under contract with Minnesota for next year. Derrick Rose and Jerryd Bayless will be unrestricted free agents this summer, while Tyus Jones will be eligible for restricted free agency. Even though Teague's $19MM cap hit isn't particularly team-friendly, Minnesota can at least enter the offseason knowing that one reliable point guard remains under club control.
With maximum-salary contracts for Andrew Wiggins and Karl-Anthony Towns on Minnesota's books, the team already has $109MM+ in guaranteed money on its cap for 2019/20. As such, the Wolves figure to function as an over-the-cap club, limiting their ability to make roster upgrades.
Photo courtesy of USA Today Sports Images.