APRIL 23, 7:32am: The Suns issued a press release late Monday night confirming that they've parted ways with Kokoskov and announcing that the search for the club's next head coach will begin immediately.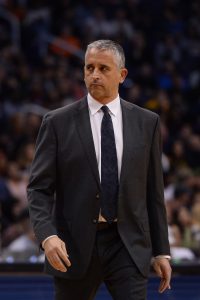 "After extensive evaluation, I determined it is best to move in a different direction with our head coaching position," Jones said in a statement. "I want to thank Igor for his work this past season and wish him the best with his future endeavors."
APRIL 22, 11:45pm: The Suns have become the latest NBA team to dismiss their head coach this spring, according to ESPN's Adrian Wojnarowski, who reports (via Twitter) that the club has fired Igor Kokoskov.
Despite a disappointing season in Phoenix, it's still a somewhat surprising development. After all, it was less than a year ago that the Suns hired Kokoskov, making him the NBA's first European-born head coach last May after interviewing upwards of 10 candidates. Kokoskov and the club reportedly agreed on a three-year deal at the time.
In his first and only season at the helm in Phoenix, Kokoskov led the Suns to a 19-65 record, which placed the team dead last in the Western Conference and just two games ahead of the NBA-worst Knicks.
A playoff berth in 2018/19 always seemed like a long shot for the franchise, but after signing Trevor Ariza and drafting Deandre Ayton during the 2018 offseason, the Suns had hoped to take some positive steps forward. Instead, the club won fewer than 25 games for the fourth straight year.
The other lottery teams that have fired head coaches so far – the Lakers, Grizzlies, Cavaliers, and Kings – announced their decisions within a couple days of their regular season finales. The Suns delayed their decision, and Wojnarowski tweets that the team had initially planned on bringing Kokoskov back for a second season.
[RELATED: 2019 NBA Head Coaching Search Tracker]
Instead, he becomes the latest victim of the organization's frequent turnover — Phoenix has employed six head coaches – including interim coaches – since the start of the 2012/13 season, and will now be on the lookout for its seventh.
It's not clear exactly what prompted the Suns' change of direction on Kokoskov, but it's worth noting that the team recently finalized some front office changes, giving James Jones the permanent general manager title and adding Jeff Bower in a top management role. Perhaps the new group wanted to make its own coaching hire, as Kokoskov was Ryan McDonough's pick.
As for which candidates the Suns may target now that Kokoskov has been let go, Wojnarowski reports (via Twitter) that the club is interested in Sixers assistant Monty Williams. The Lakers have already met with Williams and plan to conduct a second interview with him.
Photo courtesy of USA Today Sports Images.