The Pistons' first full season with Blake Griffin on the roster and Dwane Casey on the sidelines was a relative success, as the team fought its way back into the postseason after a two-year absence. Of course, a No. 8 seed and a first-round sweep at the hands of the Bucks showed that Detroit still has a ways to go to join the upper echelon of the East, and the club will have limited resources to upgrade its roster this summer.
Here's where things currently stand for the Pistons financially, as we continue our Offseason Salary Cap Digest series for 2019: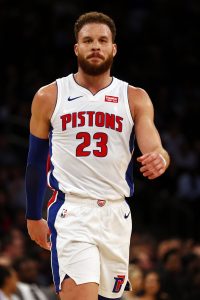 Guaranteed Salary
Blake Griffin ($34,449,964)
Andre Drummond ($27,093,019)
Reggie Jackson ($18,086,956)
Jon Leuer ($9,508,043)
Langston Galloway ($7,333,333)
Josh Smith ($5,331,729) — Waived via stretch provision
Luke Kennard ($3,827,160)
Thon Maker ($3,569,643)
Bruce Brown ($1,416,852)
Khyri Thomas ($1,416,852)
Total: $112,033,551

Player Options
Team Options
Non-Guaranteed Salary
Restricted Free Agents
Unrestricted Free Agents / Other Cap Holds
Ish Smith ($11,400,000): Bird rights
No. 15 overall pick ($3,280,920)
Wayne Ellington ($2,859,691): Non-Bird rights
Jose Calderon ($1,618,486): Non-Bird rights
Jameer Nelson ($1,618,486): Non-Bird rights 2
Zaza Pachulia ($1,618,486): Non-Bird rights
Kalin Lucas ($1,443,842): Non-Bird rights
Isaiah Whitehead ($1,443,842): Non-Bird rights
Total: $25,283,753
Projected Salary Cap: $109,000,000
Projected Tax Line: $132,000,000
Offseason Cap Outlook

Realistic cap room projection: $0

The Pistons would have to make major cost-cutting moves to create cap room, which is unlikely. The good news is that, taking into account nine players on guaranteed salaries and the cap hold for their first-round pick, they're still about $16.7MM away from the projected tax line, so using the full mid-level exception is viable.
Cap Exceptions Available
Trade exception: $2,500,000 (expires 2/6/20)
Trade exception: $1,140,682 (expires 2/7/20)
Mid-level exception: $9,246,000 3
Bi-annual exception: $3,619,000 3
Footnotes
Mykhailiuk's salary becomes fully guaranteed after July 5.
Nelson's cap hold remains on the Pistons' books because he hasn't been renounced after going unsigned in 2018/19. He can't be used in a sign-and-trade deal.
These are projected values. If the Pistons are at risk of going into tax territory, they may forfeit the bi-annual exception and have to use the taxpayer mid-level exception ($5,711,000) rather than the full mid-level exception.
Note: Minimum-salary and rookie-scale cap holds are estimates based on salary cap projections and could increase or decrease depending on where the cap lands.
Salary information from Basketball Insiders and RealGM was used in the creation of this post. Photo courtesy of USA Today Sports Images.