11:11am: The Cavaliers have officially named Beilein their new head coach, with general manager Koby Altman indicating in a statement that the decision came after a "deep and thorough" search.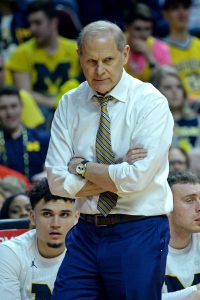 "Following the end of [our] interviews, it became clear to us that Coach Beilein was the right choice and best fit for our franchise," Altman said. "John is one of the most accomplished and innovative basketball minds and leaders in the entire game. He has a unique ability to create an outstanding culture that will promote the development of young players and provide a solid structure to the entire program; not to mention the fact that John Beilein wins everywhere he goes."
7:46am: The Cavaliers have picked a head coach, according to ESPN's Adrian Wojnarowski, who reports (via Twitter) that the team has reached a deal with Michigan's John Beilein. The two sides have agreed to a five-year contract, per Wojnarowski.
It's a surprising conclusion to a lengthy head coaching search which saw the Cavs focused primarily on NBA assistants. The club reportedly interviewed nearly a dozen other candidates, most of whom are currently members of NBA staffs, including Ettore Messina (Spurs), David Vanterpool (Trail Blazers), Alex Jensen (Jazz), and many others.
[RELATED: 2019 NBA Head Coaching Search Tracker]
Instead of going with one of those options though, Cleveland will dip into the college ranks for Beilein, who informed Michigan's administration on Monday morning of his decision to make the leap to the NBA, according to Wojnarowski (Twitter link). Woj adds that discussions between Beilein and the Cavs escalated over the weekend before they reached an agreement on Sunday.
Beilein, a veteran NCAA coach who had stops at a number of other schools – including West Virginia, Richmond, and Canisius – before arriving at Michigan, has a career college record of 754-425 (.640). With the Wolverines, that mark is 278-150 (.650). Although he didn't win an NCAA championship at Michigan, he led the team to appearances in the title game in 2013 and 2018.
Beilein interviewed last spring for the Pistons' head coaching job and also talked to the Magic, but ultimately decided to stick with the Wolverines. It appears his interest in the NBA was legit though, and now he'll get the opportunity to reunite with Cavaliers assistant general manager Mike Gansey. As Jon Rothstein of CBS Sports observes (via Twitter), Gansey played under Beilein at West Virginia from 2004-06.
In his full story on Beilein's hiring, Wojnarowski explains that the Cavaliers have been using the term "culture-driver" internally as they weighed the possibility of bringing in the Michigan head coach, who is considered one of the best teachers in college basketball. From Beilein's perspective, the opportunity to lead a Cavs rebuild – with Collin Sexton already on the roster and a top-six draft pick set to join him – was appealing, says Woj.
The Cavaliers, who become the fourth team to hire a new head coach this offseason, intend to surround Beilein with an "experienced staff of NBA assistants," sources tell Wojnarowski.
Cleveland had been on the lookout for a new head coach for over a month, having mutually agreed to part ways with Larry Drew on April 11.
Photo courtesy of USA Today Sports Images.