When the NBA and the Players' Association introduced the Designated Veteran Extension in the 2017 Collective Bargaining Agreement, it seemed aimed at helping teams keep their very best players.
The extra year and the slightly larger raises that teams can give to their own Bird Rights free agents already gave the home team a slight advantage over outside suitors. But allowing a player's starting salary to begin at 35% of the cap rather than 30% if he meets the DVE performance criteria and re-signs with his own team made the difference between the two options even more significant.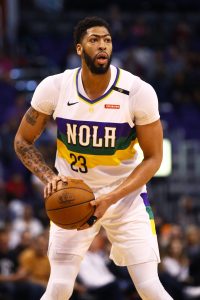 Still, as Tim Bontemps of ESPN.com details, the Designated Veteran Extension – also known as the super-max – hasn't necessarily worked as planned. Players like Paul George, Kawhi Leonard, and Anthony Davis have been willing to pass on super-max opportunities in the hopes of joining new teams. And teams like the Bulls and Kings have opted to trade their stars – Jimmy Butler and DeMarcus Cousins – rather than reckon with the possibility of committing super-max money to them.
In the view of NBPA executive director Michele Roberts, the introduction of the DVE may not have worked as anticipated for teams, but it also hasn't negatively impacted those star players.
"I mean, the players that are eligible, frankly, are players that are going to get paid, and they're going to have any number of alternatives," Roberts told ESPN. "It hasn't hurt them. It was something that they were able to secure and they were interested in getting it, and it was going to be a tremendous advantage in terms of just the amount of money.
"But I still don't see a downside. The only downside is to the extent that people absolutely believed that it was a slam-dunk way to keep their guys. And it just isn't. And if they doubted it, they can now take a look at Anthony [Davis] and see, 'Oh, wow, there is no way.'"
Even if the Designated Veteran Extension hasn't reduced player movement or helped teams keep their own stars, commissioner Adam Silver doesn't think that means it hasn't been an effective change. After all, knowing that George and Leonard weren't interested in the super-max allowed the Pacers and Spurs to trade them in advance of their respective free agencies.
"Part of the goal in 'early-ing' up the discussion was that those players then wouldn't reach the end of their contracts and, frankly, surprise teams by then announcing they were leaving," Silver said last month. "The fact that a player left the market doesn't mean it was a failure, because at least in those cases the teams got value."
Silver acknowledges that "there's still room for improvement" within the framework of the Designated Veteran Extension. The next round of super-max deals should help provide a clearer picture of how they'll work long-term.
Four players signed these contracts in 2017, the first year they were available, but no players signed one in 2018. After this week's All-NBA announcement, a handful of additional players gained eligibility, increasing the likelihood that we'll see more Designated Veteran Extensions signed this year or next. Now it's just a matter of waiting to see whether those deals are offered, and whether they're accepted.
Here's a breakdown of the players that have signed DVEs since the rule went into effect in 2017:
Here are the players who are eligible to sign a DVE this offseason:
Kemba Walker, Hornets (five years, projected value of $221,270,000; starting in 2019/20)

Note: This would technically be a free agent contract rather than an extension.

Anthony Davis, Pelicans (five years, projected value of $235,480,000; starting in 2020/21)
Damian Lillard, Trail Blazers (four years, projected value of $191,296,000; starting in 2021/22)
And here are the players who are eligible to sign a DVE in 2020:
Giannis Antetokounmpo, Bucks (five years, projected value of $247,660,000; starting in 2021/22)
Rudy Gobert, Jazz (five years, projected value of $247,660,000; starting in 2021/22)
Joel Embiid (Sixers) is probably the next star to keep an eye on in terms of super-max eligibility. If he earns a spot on an All-NBA team in 2019/20, he'll become eligible to sign a Designated Veteran Extension during the 2021 offeason.
Photo courtesy of USA Today Sports Images.